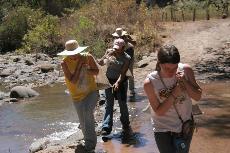 Contributed Shelly Buechel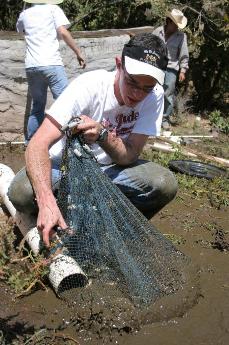 Contributed Shelly Buechel
While some of Northern Kentucky University students were off gallivanting and partying in Florida and Cancun during spring break, 12 students went to Mazamitla, Mexico.
They spent the week installing solar panels on houses without electricity, patching up and cleaning a fish tank and teaching schools about computers and technology as well as English.
"The Mexico Project" was just an idea four years ago. It began in 2005, with several visits and projects to cities in Mexico.
This trip gave students a warm welcome mixed with a bit of a culture shock.
"The people there were so nice to us and so down to earth, there's so much hospitality," said student Brandi Demmons, a third year nursing major.
Leo Calderon, the director of Latino Student Affairs and one of the chaperones, said that the people were very supportive in understanding students weren't there to push anything upon them.
"They knew that we had the resources they had needed and possessed the knowledge to help them use those resources," Calderon said.
Student music performance major Gabriela Castillo said the trip wasn't about being superior, but to help the people gain more things in life and to just help.
Calderon noted that the trip was a lifetime experience and was successful in everything they achieved and accomplished. But it would not have been of any success if it weren't for those involved who contributed time and effort to everything.
Within the university, several offices put up money and resources to enable students to enjoy an opportunity like the Mexico Project. They included Residential Life, Dean of Students, Latino Student Affairs, African-American Student Affairs. The project was also handled and supported by two specific people, Syl Flores and Dr. Miriam Kannan, both who devoted specific time and effort to every piece of the project.
For more photos of the trip to Mexico, visit A Future Without Poverty's Web site at http://www.futurewithoutpoverty.org/programVideos.php.