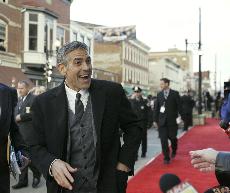 Ed Reinke/Associated Press
"Leatherheads" wasn't filmed here, and one of its characters – played by Renee Zellweger – spends part of the new movie disparaging the place, flung way atop the U.S. map as it is.
But Zellweger and her co-star, George Clooney, stopped by to thank the folks here anyway for the city's role in the football comedy, part of a promotional whistle-stop tour March 24, that included Maysville, Ky., near Clooney's hometown.
At the Depot, an old train station in downtown Duluth, the stars arrived aboard a train – how else do you arrive via whistle-stop tour? – wearing period clothes reflecting the movie's 1920s setting.
Clooney, who also directed "Leatherheads," said he understands Duluth is "cold in February, so we ended up trying to find someplace a little warmer" for filming. The movie was inspired by the old, rough-and-tumble Duluth Eskimos pro-football team of the '20s, but was filmed last year in the Carolinas.
In "Leatherheads," which opens April 4, Clooney plays an aging player on the Duluth Bulldogs in 1925, while Zellweger plays a feisty Chicago newspaper reporter.
Clooney said filmmakers wanted to call the team the Eskimos, but since there is drinking in the movie, the National Football League would not allow the name to be used.
"Oh, they don't drink in the NFL," the new voice of Budweiser commercials said. "I was shocked to hear. I couldn't believe it. I was watching a Bud commercial at the time, I think."
Zellweger, 38, defended herself against her character's low opinion of the place. "I didn't write it," she said. "I just do what I'm told."
The star-struck residents of Maysville didn't need to be told anything to line up in droves for their locally homegrown movie star, who attended a special screening of "Leatherheads" later Monday.
Clooney grew up in nearby Augusta; his father, Nick, and aunt, singer-actress Rosemary Clooney, grew up in Maysville, where their grandfather was mayor. It was in the same town more than a half-century ago where his aunt had the premiere for one of her movies.
"We've lived a huge part of our lives here," the 46-year-old actor told the audience shortly before his movie was shown in a downtown opera house. "This is a home for us, and we're very proud to be able to bring this back full circle."
Maysville Mayor David Cartmell proclaimed it "Renee Zellweger Day" in town. As for Clooney, "Since Renee took this day, we thought we would proclaim every day in Maysville to be George Clooney day."
Nick Clooney said it was his son's idea to have the special screening in Maysville, where his family has deep roots.
"This little town has given the Clooney family a lot of gifts over the years, and here's another one," Nick Clooney said. "It's really wonderful to see this kind of response from all these wonderful people."