Failures are part of life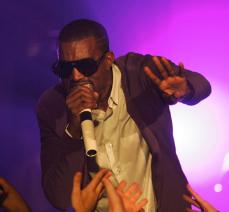 Associated Press
Too often, we see the success attained by various figures while being too quick to neglect the hard work and determination it's taken them to get there. The end result looks nice, but even the most famous people have failed numerous times to get where they are today. The next time you're striving for excellence or just feel like giving up, remember: Tom Brady was taken with the 199th pick of the NFL Draft. In high school, he drew dots for plyometric exercises in his garage, working every night just to get a starting spot on his high school team. In case you didn't know, he's the reigning NFL MVP.
Kanye West dropped out of the American Academy of Art and Chicago State University. He went on to produce for the likes of Jay Z, Alicia Keys, Cam'ron, Janet Jackson and Jermaine Dupri.
Record companies were reluctant to sign him as an artist because they feared he wasn't marketable enough in hip-hop culture. He now holds Grammys for Best Rap Album, Best Rap Solo Performance, Best Rap Song and Best Rap Performance.
After spending three years writing and editing a manuscript only to be denied by numerous publishers, a Mississippi author finally convinced Wynwood Press to publish 5,000 copies of his work in 1988.
That manuscript was John Grisham's "A Time to Kill"and he's currently the only author to have penned a best-selling novel for seven straight years (1994 and 2000).
Remember, our failures are as important in defining who we are as individuals as our successes. Everyone experiences failure or rejection at some point in their lives, the key is responding to it positively and constructively.
If you won't take it from me, maybe you'll take it from Michael Jordan, who said, "I've lost almost 300 games. 26 times, I've been trusted to take the game winning shot and missed. I've failed over and over and over again in my life. And that is why I succeed."