Women's Tennis beat Knights 9-0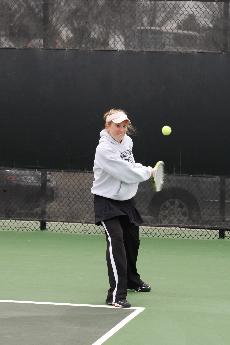 Tim Downer
The Northern Kentucky University Women's Tennis team swept the Bellarmine Knights, winning 9-0 March 21 at the Joyce E. Yeager Tennis Complex on the NKU campus.
The win moves the Norse (5-1, 1-0 in the Great Lakes Valley Conference) into a tie for first place with Drury.
Sophomore transfer Maggie Koetter improved her singles record to 5-0 with a win over freshman Lauren Cotton in the No. 6 singles flight, 6-0, 6-1, according to NKU Sports Information.
In doubles matches, sophomore Stephanie Issacs and freshman Kristen Sunday edged out sophomore Sarah Roebker and senior Maria Hornung 9-8.
The Norse will leave to face Southern Illinois-Edwardsville March 28 and Southern Indiana March 29, before heading back home to take on Tiffin March 30 at 1 p.m.