Softball drops to 5-13 on the season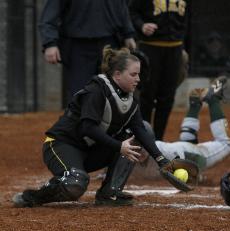 Tim Downer
The NKU Softball team continues struggling after suffering a blow-out by Lewis University in a double-header, 9-1 and 10-0 March 22, dropping the team's record to 5-13 and 1-3 in the GLVC.
In the first game, NKU freshman pitcher April Ehlers got the loss, giving up six earned runs for the outing. The Norse offense was unable to give the freshman much run-support against Lewis pitcher Courtney Lyons, who finished out the game with a three-hitter.
The second game was tied 0-0 until the fourth inning, where Lewis exploded with a 10-run inning. Seven of those runs came off NKU junior pitcher Amanda Smith.
The Norse offense was stagnant once again, this time unable to cross the plate against Lewis pitcher Diana Pickrum, who registered a four-hit shutout.
The Norse will play Ohio Dominican at 3 p.m. March 26 at Panther Softball Field. They will return home to play Missouri S'T at noon March 29 for a four-game series.