Men's Tennis defeat Cedarville, Bellarmine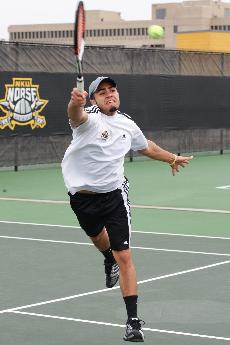 Tim Downer
The NKU Men's Tennis Team is beginning to come around after starting the season 1-5. It has come together to win two-straight against Cedarville March 21 and Bellarmine March 22.
In the match against Bellarmine, junior Fritz Dlabik won in two straight sets over sophomore Nathan Matthews, 6-0 and 6-3, as the Norse won four of the six matches.
NKU improved its record to 3-5 on the season and are 1-0 in the Great Lakes Valley Conference. The Norse are currently tied with Drury and Rockhurst for first in the league.
Next the Norse will head onto the road to face Southern Illinois-Edwardsville March 28 and Southern Indiana March 29. NKU will return home to play Tiffin March 30 at the Joyce E. Yeager Tennis Complex on the NKU campus.