Baseball loses to Findlay after strong weekend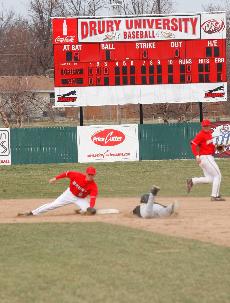 Tim Downer
The Northern Kentucky University Baseball team started the home schedule on the wrong foot, losing the double-header March 24, 7-2 and 9-6 at the NKU Baseball Field on campus.
Findlay got the game rolling with a three-run second inning off Norse starter Matt Winterhalter (0-1). Winterhalter threw 5 2/3 innings with seven strikeouts and allowing seven earned runs in game one of the double-header.
"If you can't throw strikes, you are not going to win games," head baseball coach Dave Asalon said. "Many of the batters we had 0-2 counts on and the pitchers just couldn't get the out."
The Norse (8-12, 5-2 in the Great Lakes Valley Conference) struggled on offense, only managing two runs on five hits, as Oilers' starting pitcher Patrick Burkin (1-1) pitched well going six innings, allowing four hits on one unearned run, walking three and striking out four.
In game two of the double-header, the Norse offense was hitting and scoring, but the Norse fell behind after NKU pitcher Kevin Quick gave up four runs (three earned) on five hits and three walks in 3 1/2 innings of work.
"It was a team letdown," Asalon said. "It was our first home series and to lose both games it is just upsetting. My team just played flat and I'm not sure what I can do to get the team fired up. Maybe I got to take a look at a mirror and see if it's my staff or me."
The Norse went to Rolla, Mo., this weekend and showed why they were picked to contend for the Great Lakes Valley Conference championship. The Norse took three of four from the Missouri-S'T Miners and appeared to have turned around the season after a shaky start.
"That was a good weekend. We were playing really well. Our defense is solid," Asalon said. "When you do that, you'll win more than you lose."
The Norse outscored the Miners 36-15 in the four game series and it seems the offense is starting to hit its stride after a rough 1-8 start to the season.
Since then the Norse have won seven of nine and are being very stingy with their runs allowed, permitting just 3.67 runs per game during the stretch.
Juniors Kevin Dusold and Jake Shaffer have made huge offensive contributions, with Shaffer leading the team with a .569 slugging percentage, while Dusold leads the team with 17 RBIs. Sophomore first baseman Evan McDole has been surprising thus far by leading the team with a .375 batting average and an on-base percentage of .480 according to the NKU Sports Information.
In the first game March 21, the Norse set the tone early, leading 6-0 after the third inning. They were helped by some shoddy Missouri-S'T defense, which committed two errors in the third inning, eventually leading to four Norse runs. Sophomore Brandon Slusher coasted for six innings, giving up just three runs and striking out two. Dusold and Shaffer led the offensive charge with a combined 9-for-9 at the plate. The team knocked in nine runs while the pair scored seven times, en route to a 15-3 win.
"(The Miners) brought a relief pitcher who