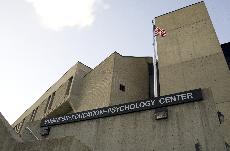 When you think of "the rock," you probably think of Alcatraz, Kanye West's record label or some professional wrestler turned actor.
However, at Northern Kentucky University it has a very different meaning- especially when talking about the Business-Education and Psychology building.
The BEP is a concrete frame structure that contains 129,219 gross square feet on all four floors. It consists of classrooms, laboratories, conference rooms, offices and two auditoriums.
On May 11, 1979 when construction began on the BEP, it became clear there were massive deposits of rock in the construction site. They began digging up the rock until the university realized how much money it was spending. Excavating all the rock would have put the university over budget, so it decided to build around the remainder of rock.
"The rock" lies in the middle of the 2 wings of the first floor. As a result, there is no hallway on the first floor of the BEP and in order to get from one wing to the other, you must go up to the second floor and walk all the way across, before heading back down to the first floor to reach your destination.
This may be a hindrance to getting from class to class, but with the division of the floor, two lobbies were made to accommodate students.
"I've always wondered why there wasn't a hallway down there, now I get it," said senior entrepreneurship major Adam Brown.
"The rock" posts no danger to the integrity to the building. During construction the workers built retaining walls up against the rock to reinforce the building's sturdiness.
"It's not like having a haunted classroom on campus," joked Mary Paula Schuh director of campus planning. "It's more of slight inconvenience than anything."
The only downside to the structure of the building being built around "the rock" is that airflow is constricted within certain regions of the building. However, the structure itself is perfectly sturdy. During construction, workers built retaining walls against the rock to reinforce the buildings' sturdiness.
The other problem is that it's not as handicapped accessible as it could be.
"That's really the only unfortunate thing about the way it was built," Schuh said.
The next time you're in the BEP building and you want to walk through the first floor hallway and realize there isn't one, just remember why.
It's not Alcatraz, Kanye or some ex-wrestler