Reds win rain-shortened game 7-4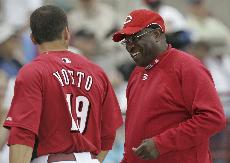 Al Behrman
Cleveland left-hander Cliff Lee returned from a sinus infection and pitched one inning March 4, during the Indians' 7-4 loss to the Cincinnati Reds in a rain-shortened game.
Lee, who is competing for the fifth spot in the rotation, gave up one hit.
"I've never been sick for a week and felt that bad," he said. "It feels good to feel good now. I felt like I threw the ball remotely close to where I wanted to, so I'll take that."
Left-handers Aaron Laffey and Jeremy Sowers, the other candidates for the final spot in the rotation, followed Lee and gave up Cincinnati's seven runs in a game called after the Indians batted in the fifth.
Laffey walked three and gave up three hits while retiring only two batters in the second inning. He was charged with five runs in all.
Sowers pitched the fourth and gave up four hits, a walk and a pair of runs.
"All three of those lefties have been throwing the ball good," manager Eric Wedge said.
Joey Votto singled home a run for Cincinnati. Jolbert Cabrera doubled home a pair of runs and Ryan Freel hit an RBI single.
Matt Belisle, part of a group of pitchers competing for the last three spots in Cincinnati's rotation, pitched a perfect first inning before giving up three runs and three hits in the second. Andy Marte hit a two-run double.
Belisle has a history of letting one bad inning undercut his outings.
"He was good early, then he lost his command," manager Dusty Baker said. "I don't know what causes it. I have to see him some more. He definitely has the stuff."
Josh Fogg, who signed a one-year deal with the Reds last month, gave up a solo homer by Franklin Gutierrez during his three innings.
Fogg also is aiming for a starting spot.