Flyers upset Norse in tourney opener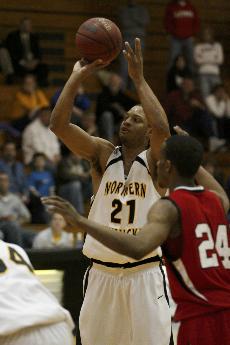 Tom Miller
In the last basketball game to ever be played at Regents Hall, the No. 1 seeded Northern Kentucky University Men's Basketball team was upset in the first round of the Great Lakes Valley Conference tournament by Lewis University, the No. 4 seed 80-76 March 4.
The game at Regents Hall was decided in the last seconds. NKU, which had trailed Lewis since the 5:44 mark in the second period, closed the deficit to one point on a 3-pointer from Vincent Humphrey with just 13 seconds left.
Then the Norse, forced to foul on the ensuing possession, sent Lewis' Brandon Dagans to the free-throw line. Dagans hit both free-throws, giving Lewis a 3-point lead.
With 11 seconds remaining, Harrison Morton drove the floor, but was fouled before getting off a shot. With NKU in the single bonus, Morton went to the free-throw line for a one and one, but missed his first attempt and Lewis came down with the rebound.
NKU then immediately fouled, sending Lewis' Stephan Bolt to the line. Bolt made one of his free throws giving the Flyers a 4-point lead and, effectively, ending the game.
The loss, however, should not have an affect on NKU's chances of getting into the NCAA Tournament.
In the latest Great Lakes Regional rankings, released Feb. 13, the Norse were ranked No. 6. And with the top eight teams qualifying for the tournament, NKU should be in, barring a late surge in the polls by both Lewis and Bellarmine University.
The opening round for the Great Lakes Regional of the National Tournament is scheduled for March 14.
With the tournament looming, there is growing concern surrounding the team and its chances as the postseason continues.
"(Our defense) has been a concern of mine for about the past two and a half weeks. We have not played solid defense at all