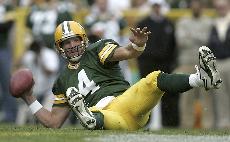 Morry Gash
Brett Favre has had enough.
After a wild ride marked by fist-pumping highs, head-shaking lows and a record number of consecutive starts, the 38-year-old quarterback told the Green Bay Packers on Tuesday that he intends to retire.
"I know I can still play, but it's like I told my wife, I'm just tired mentally. I'm just tired," one of the NFL's greatest players told ESPN's Chris Mortensen in a voice mail message.
The man who completed more passes than anyone in history will let that last throw – an interception in the NFC championship game that set up the New York Giants' winning field goal – stand as his final toss.
Even the prospect of playing in one more Super Bowl couldn't convince him to stay.
"To go to the Super Bowl and lose, would almost be worse than anything else," Favre told ESPN. "Anything less than a Super Bowl win would be unsuccessful."
This time, Favre's fans won't have to endure another long winter wondering whether he'll return.
"I think the finality of it just kind of hits you," Packers general manager Ted Thompson said. "Brett Favre's not going to be our quarterback anymore."
The three-time MVP walks away with most of the NFL's significant passing records – most career touchdown passes, most career yards passing and most career victories by a starting quarterback – and a victory in the 1997 Super Bowl.
As the Packers cheered Favre's touchdowns and victories (and cringed at his NFL-leading 288 interceptions) his body was breaking down.
"After a while it takes a toll," Thompson said. "And based on my conversations with him and Mike's conversations with him, he feels like that's enough paying of the toll."
That comes from his quarterback-record streak of 253 consecutive regular-season starts – illustrating his trademark toughness. Add in the playoffs, and Favre's streak stands at 275.
Most thought Favre had another good year left in him. But the guy who had joyful disregard for the ironclad rules of quarterback play said he was done.
"I was surprised when I heard it this morning," former Packers general manager Ron Wolf said. "He played with such a great passion. He must have figured he no longer had that passion, and it was time to get out."
Favre told the team he was simply worn out, physically and mentally, after starting every game since taking over as the Packers' starting quarterback in 1992.
He talked to McCarthy by telephone twice Monday night, indicating he intended to retire, then spoke to Thompson to finalize his decision Tuesday morning.
"He said it was time for him to hang up the cleats," McCarthy said.
Favre retires with 5,377 career completions in 8,758 attempts, with 61,655 yards and 442 touchdowns.
Thompson and McCarthy spoke at a news conference Tuesday afternoon, but the team has not said when Favre will address reporters.
Favre accompanied his youngest daughter on a field trip to Jackson, Miss., according to a woman who identified herself as someone who works for Favre. She spoke to an Associated Press reporter through the security intercom.
"I know the fans are absolutely devastated today," Thompson said. "The Packers will move forward, but certainly we have all been blessed to see this man play this game the way he played it."
Even Favre's teammates didn't see it coming.
"I just saw it come across the TV," Packers wide receiver Koren Robinson said, when reached on his cell phone by the AP.
Thompson and McCarthy insisted it was clear the team wanted Favre back.
"How could you not want Brett Favre's career to continue," McCarthy said.
However, Favre's agent, Bus Cook, said:
"Nobody pushed Brett Favre out the door, but then nobody encouraged him not to go out that door, either." He spoke to the AP by phone from his Hattiesburg, Miss., office.
Thompson and McCarthy also said the Packers' lack of interest in wide receiver Randy Moss – a player Favre publicly lobbied the Packers to sign last offseason but re-signed with the New England Patriots – wasn't a factor.
Even without Moss, Favre provided plenty of fireworks last season. He experienced a career resurgence, leading the Packers back to the playoffs.
And he broke Dan Marino's career records for most touchdown passes and most yards passing and John Elway's record for most career victories by a starting quarterback.
"Brett's career accomplishments will be measured among the greats of the game for the balance of time," said Seattle Seahawks coach Mike Holmgren, Favre's former coach in Green Bay. "He truly was as gifted a player as I have ever seen, and as proud and amazed as I am of what Brett has accomplished on the playing field, the thing that impresses me the most is what kind of a man and leader he has become off the field since I have known him."
Now, he must be tough enough to stick to his decision to retire.
"As the season gets closer, I wouldn't be surprised at all if he changes his mind," said Hall of Fame quarterback Troy Aikman, a Fox analyst who played 12 years with the Dallas Cowboys.
What if Favre were to call the Packers come July?
"I think somebody would find a place for him," Packers chairman emeritus Bob Harlan said.