Your college close to home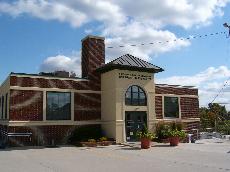 Photo provided by the Grant County Center
For most students, Northern Kentucky University means Highland Heights. But for many students, NKU means Williamstown.
That's because one of NKU's sister campuses, the Grant County Center, resides there. And it's right near home for many students in the southern reaches of Northern Kentucky.
"Our tagline is 'Your college close to home' and that's what we're about here. To make NKU accessible to outlying counties," said Betsy John Jennings, director of the Extended Campus Initiative.
The single-building Grant County Center currently has 18 faculty teaching about 220 students, many of whom are interested in completing their Associate in Liberal Studies or Bachelor in organizational leadership, in 20 to 22 classes.
Its students mix both the traditional and non-traditional. The faculty are just as diverse.
"Two of our faculty are fulltime NKU faculty who teach at the various extended campuses that we have. "We also have adjunct faculty and faculty that come from the main campus," Jennings said.
Three years ago the Grant County Center relocation to the larger, WiFi enabled building was aided by the efforts of the community, which renovated the building through fundraisers.
"It's an old building that started as an elementary school," Jennings said. "It was pretty much from wrack to ruin when we already had one facility that we had outgrown."
It offers services from its own advising and financial mentoring offices to the students living in Grant, Owen, Southern Boone, Gallatin and Pendleton counties.
It is also the home of the Office for Economic Initiatives' Innovation Center.
"It is for people in this region who are thinking about starting a small business," he said. "They can come right here instead of coming all the way to Northern Kentucky."
Jennings notes that some students sign up for Grant County Center classes, not realizing that the campus is 45 minutes from NKU's main Highland Heights Campus.
As a result, if students live a good distance from Grant County, "Happy Letters," as Jennings jokingly calls them, are sent to them.
"We just let them know, we'd love to have you, but did you realize you have one class that ends 15 minutes before this one begins on the main campus?"
The Grant County Center is located 390 North Main Street Williamstown, KY.