Pups recover with water fitness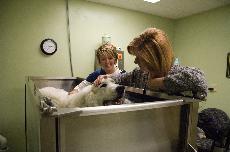 Water fitness has gone to the dogs – literally.
Hot Diggity Dog canine water fitness, owned and operated by Northern Kentucky University alumna Shauna Grainger, not only provides a place for dogs to recover from surgeries and strains, but it's also a place to take a few wet steps toward a healthier life.
Grainger opened shop in November, 2007 after taking her boxer, Arthur, to hydrotherapy sessions in Dayton, Ohio every week.
"Arthur was diagnosed with hip dysplasia and Dayton was the closest place with a hydrotherapy center," she said. In 2007, the Greater Cincinnati Veterinary Specialty and Emergency Services center in Wilder, Ky. expanded their location, making it possible to house a hydrotherapy center.
"While Arthur was going through therapy, my interest in it just grew and grew," Grainger said. "My vet co-owned the center and he recommended that there be a hydrotherapy center included."
Grainger graduated from NKU in 2002 with a bachelor's degree in biological sciences.
"I worked in pharmaceutical sales after I graduated because I thought it would be rewarding to educate people on life-saving prescriptions," she said. "In the end, I just felt like a waitress who just had to listen to how the lunch I brought was cold."
After she decided to forward the Hot Diggity Dog project, Grainger went back to the same center in Dayton for her training because there are no particular training facilities or requirements for canine hydrotherapists.
"I wish I could say that I have some fancy letters behind my name," Grainger said. "But right now there just isn't a program available."
Since its opening, Hot Diggity Dog, the only canine hydrotherapy center in the tri-state, has grown exponentially.
"A lot of people will laugh at the idea, but it's serious rehabilitation for dogs who need it," Grainger said.
During the sessions, the dogs exercise on a water treadmill because water provides more resistance than air. This resistance makes it so the dog gets three times the benefits for however long he walks. So if a dog walks for one minute on the water treadmill, he is getting the workout equal to three minutes on a regular treadmill.
Using the water treadmill also helps increase muscle mass, cardiovascular fitness and endurance as well as increase joint range-of-motion. The warm water used in hydrotherapy is also relaxing and can help increase circulation and the promotion of healing, according to Grainger.
During the sessions, she encourages owners to bring treats and be encouraging.
"Never pity your dog when he's on the treadmill. Don't say 'oh, poor boy' or anything. You have to be all positive encouragement," Grainger said. She talks directly to the dogs and makes sure they know what's expected of them.
"I always talk to the animals and tell them I know it can be scary, but it can be fun, too," she said. "It's just like talking to a child, they know what you're saying and what they need to do."
A single appointment costs $45 but, because therapy requires a series of sessions, most people buy packages or 5 sessions for $210 or 10 sessions for $400.
"People go the gym to stay healthy. Why should it be any different for your dog?" Grainger said. "If you can afford it, there is no dog that wouldn't benefit from canine hydrotherapy."