Wins lead Norse to first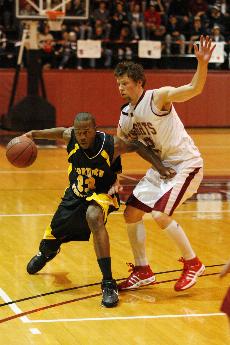 Tim Downer
The game was billed as a battle for first in the Great Lakes Valley Conference's Eastern Division. What transpired was a showcase of Northern Kentucky University's depth and defensive skills.
The 78-63 upset victory over No. 22 Kentucky Wesleyan (22-5,12-4 in the GLVC) was NKU's third consecutive victory and improved its record to 19-5, 13-4 in the GLVC, vaulting them past the Panthers and into first place in the GLVC East.
"It is a big win to get us back into first and also beating a team ranked higher than us in the NCAA region poll," head coach Dave Bezold said.
It was a great all-around team defense for NKU. Coming into the game, the biggest question for the Norse was how to slow down the high-powered frontcourt attack from Jeff Fahnbulleh and Rodney Edgerson. The senior duo each averaged more than 18 points per game, according to the GLVC Sports Information. But tough defense by the Norse held Fahnbulleh and Edgerson to a combined 16 points on 6-for-22 shooting.
The Panthers came into the game with the No. 1 offense in the GLVC. The Norse were able to hold them to 63 points and 41 percent shooting, both well below NKU's season averages.
The outcome of the game was in doubt until an Anthony Teague 3-pointer with 11:23 remaining triggered a 14-1 run that was capped by a Harrison Morton jumper with 3:31 to play.
The run stretched the Norse's lead from three to 16 at 64-48 and effectively sealed the victory.
The Norse received a huge boost from the bench, with more than half of the teams points coming from the bench. The bench combined for 40 points, including 17 from junior guard Billy Finnell.
"Bench play at Bellarmine Tuesday and KWC Thursday was the difference in the game and an important reason for our success" Bezold said.
Morton led the charge offensively with 22 points and six rebounds. The senior forward has been playing his best basketball of the season, averaging 20 points and 5.5 rebounds in his last four games.
"Harrison has been doing what you need from your seniors – to step up – and he has" said Bezold.
The Norse has now set their sights on the final road trip of the season. With wins at Wisconsin-Parkside Feb. 28 and the March 1 regular-season finale at Lewis, the Norse could clinch the top seed in the East for the GLVC Tournament, starting March 4.
The top two seed will host a home game in the first round. More importantly, it would avoid a match-up with No. 7 Drury until the finals.