'Fit Club' judge speaks to students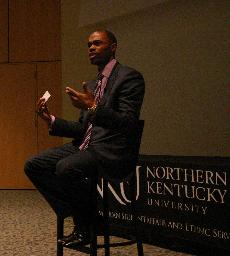 Dr. Ian Smith, originator of the 50 Million Pound Challenge, author and former television medical correspondent for NBC News, addressed an interactive audience at the Eva G. Farris Auditorium Feb. 26.
Smith, whose speech was sponsored by African-American Student Affairs and Ethnic Services, talked about a potpourri of topics as varied as his multi-faceted career, ranging from super-delegates to pop culture, social security and obesity.
Smith spoke of it casually, waiting for members of the audience to answer questions he posed.
According to Smith, the days are gone when people worked at one job for 30 years and then retired. And, he says, this generation of college students are all the better for it.
"You have to take the most out of life," Smith said. "Pursue what makes you happy. You are lucky because you can sample life."
Pursuit of happiness in your vocation, and not material wealth, will lead to a happy and fulfilling life, according to Smith.
Smith said that people need to balance intellectual and financial pursuits. Harmony comes from a balanced approach.
"You must realize that you have inherited this country," Smith challenged. "You have a chance to put the country in a whole new direction."
He urged listeners to pursue endeavors, get beyond differences in race, financial status and political ideology and use their college education to further global reconciliation.
But, most of all, he reiterated, "Always choose happiness."
In a partnership with State Farm Insurance, Smith is promoting health through nutrition and exercise. He encouraged his audience to take a look at his Web site 50millionpounds.com.
The initiative was started to focus on the disproportional health care issues of the black community, but according to Smith, everyone needs to participate in a healthy lifestyle. "You'll see a lot of black people on the site, but it's for everyone," he said with a chuckle.
At the conclusion of his remarks, Smith remained with the audience for an extended question and answer session. For more information on Smith's accomplishments and programs, go to www.doctoriansmith.com.