Planetarium classes offer new voyages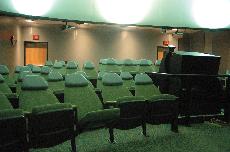 Dylan Bauer
Students walk into the Dorthy West Science Center at Northern Kentucky University for their spring semester astronomy class. Each dreads the hassle of finding a seat in another plain, white-walled classroom for what they think will be another basic introductory science class.
However, they walk in, not to find 30 desks in straight rows, but what seems to be movie style seating.
"The idea for an instructional planetarium has been under discussion since the late '80s or early '90s," professor and chair of physics and geology, Chuck Hawkins said.
Hawkins has been involved with the planetarium since around 1997 and was instrumental in the decision to convert a department lecture room into the planetarium. He became chair of the department in 1998, at which time was liaison for the final design and construction of the new feature.
Dan Spence, who became the planetarium director, has been advocating a planetarium at NKU for years. He says the plan is a vital teaching tool.
"Teaching is the shortest answer. Teaching is a way that excites students in what we are trying to do here."
"All introductory astronomy courses are taught in the planetarium," Spence said. "That means that over 200 NKU students are having classes in the planetarium. We also use the planetarium for show development, visiting schools, Monday's free shows and special events."
There will be three shows playing during the spring semester; "Imagination, Art, and Science," "New Horizons" and "Wonders of the Universe." Tickets are available at the coffee shop on the first floor of the Science Center.
A planetarium serves two purposes, Hawkins said, enhancing the educational experience in astronomy classes by giving a direct experience with the night sky, and provides science experiences to all grades via outreach programs.
"Presentations for visiting school groups are a regular function of the planetarium," Spence said. "These are for students that are on field trips to see a presentation in the planetarium that can be live or prerecorded and include a question and answer period."
Advanced technology adds to the experience of sitting within the planetarium and allows people to feel as if they were emerged within the world, solar system or constellation being projected.
"The laser digital capabilities of our planetarium expand the quality of both experiences tremendously because it can project anything- not just stars, and because the setting makes you feel as though you are really there," Spence said.
Also new to NKU, but not yet open, is a greenhouse located at the top of the Science Center.
"The greenhouse is nearly done," Mary Whitson said.
Whitson, a Biological Sciences professor, said, "we are still tweaking the last few little things."
She also added that "it will have three rooms which are separately temperature controlled, so we can have tropical, temperate and desert plants. We'll use it for teaching and researching plants. We will probably sometimes offer tours to interested groups of campus visitors."
Whitson said that they are hoping to move into the greenhouse this semester.