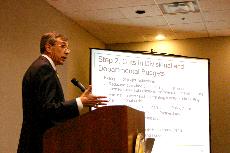 Tom Miller
Regents Hall has seen volleyball and basketball games, concerts, practices, two presidents and more in its 36 years as a part of Northern Kentucky University. But on Feb. 16, it saw its final baskets.
According to NKU Athletics, the 28,726 sq-foot, 2000-seat building carried a $1,595,000 price tag when it opened in November of 1972. Although it was large for its time, Regents Hall seems puny next to the $68.9 million, 9,200-seat Arena, where the NKU Men and Women's Basketball teams are preparing to move to.
"It's challenging, but it's also exciting," NKU Athletic Director Jane Meier said. She worked as the women's basketball coach for ten years, beginning in 1978 before becoming the athletic director.
"I've been involved in it for 30 of its 36 years," she said. "I've seen Tartan floors, them getting rid of pink carpet, purple carpet and brown carpet."
According to her, even at the opening game in 1972, the building was almost not ready.
"The first basketball team that played here had to install the bleachers," she said.
In her time, she's also seen her share of shutouts and nail-biters. Such as the NCAA Regional in 1999.
"We ended up winning that game on a last second shot," she said. "There was such a high fervor."
Dave Bezold, men's basketball head coach for the past four years and assistant head coach since 1990, has his own classic close-calls. He remembers clinching the Great Lake Valley Championship title in 1994 after a triple overtime.
"That was the biggest game, probably ever, in that gym," Bezold said.
He also recollected a win against Michigan Tech in 2004, his first win as head coach of the Norse. "They were ranked seventh," he said. "We weren't ranked at all."
That's not to say all the memories are fondly remembered.
"There have been some tough losses," he said, though he pointed out that he doesn't recollect any truly horrific defeats.
"I can't remember if there's been one on the opposite side of the rainbow," he said. "Nothing as important as (those wins)."
NKU Women's basketball Head Coach Nancy Winstel has been more a part of the history of Regents Hall than anyone, having played on the women's team in 70's, and now entering her 25th season as the head coach.
"Regents is a special place," Winstel said. "It always has been and always will be, but life is about change. You don't really want to, but at the end of the day you move forward."
There are some unpleasant memories, however, which are tucked away in the building's history – including more than a few bruised knees. The original floor was Tartan, a type of rubber over concrete that was hard on players' knees. As Winstel put it, "if you fell, you didn't slide. You just stayed right there."
Of course, though Regents is primarily a gym, the university has used it for more than sports. Presidents Gerald Ford and George W. Bush have spoken there, commencements have taken place there, and various bands, such as The Eagles, have played there.
Meier said that Governors Louie B. Nunn, Martha Collins and Ernie Fletcher have also addressed audiences in the gymnasium.
Bezold and Meier both acknowledged they'd be losing something with the move to the new arena.
"After the games we were all touchable, all approachable," he said. "There's no way you can capture that intimacy."
Meier agreed. "The neatest thing is the atmosphere – you're so close to the action. That will be hard to replicate."
It is also easier to have a full house in Regents, she said, though she's not worried about attendance to games. Athletics' goal is to average 3,000 to 5,000 basketball game attendees. More comfortable seats and a nearby parking garage will encourage fans to come out, she said.
Meier added that the arena will give coaches an edge in recruiting.
Regents will still host volleyball games and softball practices, as well as serving as an alternate practice site for basketball. But most of its other functions will be moved to the Bank of Kentucky Center, including commencement, which will take place there this May.
"We're maturing as a community," Meier said. "Alums are coming back and supporting the team."
As for Bezold, he isn't focusing on the move. He's still got a season to win.
"Right now, we're fighting for big things in the season," he said. "Once this season's over, they'll start getting excited about it."
Winstel has a similar mindset.
"We have four games left. I'm preparing them for Bellarmine. I'll worry about (the move to the new arena) when the time comes. Basketball coaches are very in the moment. The surroundings are bigger."
Next season, the surroundings will be much bigger.