Cubans hope Raul Castro will adopt reforms after Fidel leaves presidency on his own terms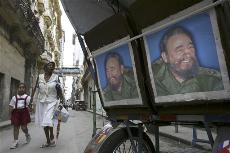 A woman and a girl walk past a bicycle cart decorated with a photographs of Cuban leader Fidel Castro in Havana, Tuesday, Feb. 19, 2008. Castro resigned as Cuba\'s president after nearly a half-century in power, saying he will not accept a new term when the newly elected parliament meets on Sunday.
HAVANA (AP) – Now that Fidel Castro has retired, many Cubans are looking to his brother to let more people open businesses, own homes and even travel abroad. But it will probably fall to a new generation of leaders to ultimately fulfill or frustrate their dreams of prosperity.
During his 1