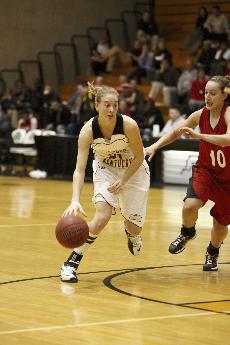 Tim Downer
The Northern Kentucky University Women's Basketball team defeated Bellarmine University 72-59 Feb. 9 at Regents Hall. With the victory, the Norse maintained their share of the lead in the Great Lakes Valley Conference Eastern Division along with the University of Indianapolis.
Junior Cassie Brannen became the all-time leading shot-blocker in NKU Women's Basketball history when she recorded her third blocked shot of the game surpassing Janet Brungs' career best of 132 blocks. Brannen finished the game with 12 points, nine rebounds, four assists and six blocked shots.
NKU spread the scoring around, finishing the game with five players scoring in double-digits. And Nicole Chiodi recorded her first double-double of the season with 11 points and 10 rebounds.
"We all played really hard and we kept moving the ball so I thought that was the biggest key to the game tonight, us playing together as a team," Chiodi told Sports Information..
The game was close in the first half, with NKU holding onto just a 2-point lead at halftime. The Norse, however, were able to pull away in the second half with steady shooting and a defense that forced Bellarmine into just 28.6 shooting percentage for the half.
"In the second half, we sustained some things and I also thought we had some key people step up and play some big minutes for us," head coach Nancy Winstel told Sports Information. "Cassie Brannen played almost the entire game, Danyelle Echoles was big offensively and defensively, and Kendra Caldwell, I thought, really played well in addition to Jessie, Angela, and Nicole. Everybody that played contributed in a big way."
NKU will face Saint Joseph's Feb. 14, followed by GLVC East co-No. 1 Indianapolis Feb. 16, which will mark the team's last game at Regents Hall.
"(Indianapolis is) awfully good and we beat them at their place so it is going to be a very special time (Feb. 16)" Winstel told Sports Information.