Pretty in Pink: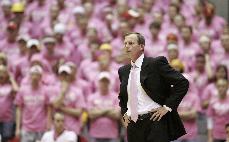 Charlie Neibergall
If a night of basketball and a free Votruba bobble-head isn't enough to pack Regents Hall, the Feb. 14 women and men's games against St. Joseph will also help to raise money for the fight against breast cancer.
Hoops for Hope is Northern Kentucky University's version of Think Pink Week, a program that was started in 2007 by the Women's Basketball Coaches Association.
Last year, 120 schools took part in the week long strive to promote breast cancer awareness.
This year, the week is from Feb. 8 – 17 and NKU is one of more than 980 schools that have pledged to participate.
"It's a way for our basketball teams to help raise awareness," athletic director Jan Meier said. "It's about wearing pink and trying to help those who are affected by breast cancer."
The proceeds from the game, both through entrance fees and a split-the-pot raffle, will go toward the Avon Foundation. This foundation specializes in breast cancer outreach, education and research.
"There are so many barriers that keep women from having mammogram screenings and one of them is financial," nurse practitioner with St. Elizabeth South's Women's Wellness Center, Phyllis Reed, said. "There is money available for women to get the help and screenings they need. We just need to get that message out to the community."
As part of Hoops for Hope, both the women and men's teams will be wearing pink warm up tees.
"The women's team asked us to participate and we said of course," head coach of the men's basketball team, Dave Bezold, said. "We all have sisters and moms. Anytime we can bring exposure to something like this, it's a good idea."
The women's team will also sport pink wrist and headbands in addition to the pink warm-ups – all donated by Campus Book and Supply.
Although it seems serendipitous that Hoops for Hope falls on Valentine's Day, it wasn't planned that way.
"We chose this day because it fit into our schedule, but it worked out nicely that it fell on Valentine's Day," women's head coach Nancy Winstel said.
The Women's Wellness Center will be giving an educational speech during the game and will have an information table set up throughout the night.
"We want for everyone to understand how important it is for women to take an active role in their health care by giving themselves thorough monthly breast exams as well as an annual clinical exam," Reed said.
The Lady Norse will face St. Joseph's, Feb. 14 starting at 5:30 p.m., while the men will tip off at 7:45 p.m.
"Coming to the game is a great way to spend your Valentine's Day," Winstel said. "Bring someone you love, wear pink and join us for Hoops for Hope."