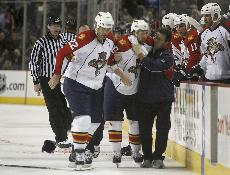 The Florida Panthers and Buffalo Sabres are both in need of wins as they chase playoff spots in the Eastern Conference. So there was a lot at stake going into Sunday night's game.
But the Panther's Richard Zednik's injury changed all that.
Blood gushed from Zednik's neck after he was hurt midway through the third period of Buffalo's 5-3 victory, creating a frightening moment that delayed the game for about 15 minutes. There was also a brief discussion about postponing the game altogether.
Two hours after the game, the Panthers announced Zednik was resting comfortably at Buffalo General Hospital after having surgery.
He was hurt with 9:56 left in what was a freak but frightening accident.
Zednik was behind the play and skating into the right corner of the Sabres' zone, when teammate Olli Jokinen was upended by Sabres forward Clarke MacArthur.
Jokinen fell headfirst to the ice, and his right leg flew up and struck Zednik directly on the side of the neck.
Clutching his neck, Zednik raced to the Florida bench, leaving a long trail of blood. When he arrived, he nearly fell into the arms of a team trainer, who quickly applied a towel to the cut. Zednik was then helped off the ice by the trainer and teammate Jassen Cullimore, and escorted to the Panthers' dressing room before being loaded into an ambulance.
After a 15-minute delay, and after the Panthers were assured that trainers had stopped the bleeding, the game resumed but with little intensity or flow.
"The game doesn't mean a whole lot," Campbell said. "Sure, it's important in the standings, but it was very humbling. … The magnitude of something like that sets in pretty quickly."