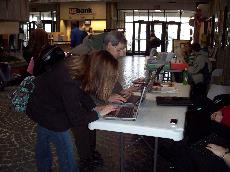 Confusion about whether or not the university is open when winter weather hits may soon be a thing of the past. Norse Alert, a new system that is designed to notify registered students, faculty and staff not only of weather alerts but also of any attacks, building fires or other dangers on campus.
Students can sign up for the new Norse Alert system in the University Center Lobby from 11 a.m. to 1 p.m. until Feb. 15, or online at www.nku.edu/~norsealert/index.php.
In order to register, students, faculty and staff must provide either a phone number, to receive either a voice or text message, or an e-mail address to receive the alerts. Up to three phone numbers can be entered for either voice or text messages.
Norse Alert will make up to three attempts to call each phone number on the distribution list. So, if a number is busy or there is no answer, the system will make up two additional attempts. However, text messages will be sent only once.
The need for a system like this was revealed in the wake of the Virginia Tech shooting in April 2007. Dean of Students Matt Brown said. Other suggestions of installing a loudspeaker or intercom system was not realistic because thousands of students are in transit to NKU at any time, he said.
In order to find out how students prefer to be contacted, or if they would, NKU conducted an online survey.
Kathy Bennett, Web manager for the Information Technology Department, said students said they preferred to be contacted via text messaging and that they only wanted news alerts.
"We want to reassure students that they aren't going to get messages that aren't of an emergency nature," Bennett said.
Brown added that Norse Alert is the best way to communicate with students, faculty and staff.
"Really all you need is one student to get the message and they can pass the word on," Brown said.
Bennett said test messages will be sent out in about a month to everyone registered for the system to be sure Norse Alert is working properly.