Alumni win $16,000 on television's 'Millionaire'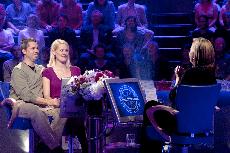 Photo courtesy of Valleycrest Productions Ltd.
What does a zymurgist make?
The answer is beer, and though most college students are familiar with it, the word cost two Northern Kentucky University alumni $9,000.
That's because the two fianc'eacute;s, Elizabeth Alexander and Chris Bowker, walked away with $16,000 from the television show "Who wants to be a Millionaire?" on two episodes that aired Feb. 6 and 7 on WKRC Channel 12.
The pair appeared on the show during the "Wedding Week." They had been introduced Feb. 6, and used up one of three lifelines trying to figure in which country the "ambassador to the Court of St. James" represents America.
According to the show's producers, Bowker liked Alexander early on, but she showed little interest in his attempts to woo her, including the strawberries carved on roses he would leave for her. After two years of pursuit, she gave Bowker the chance he'd been waiting for, and the two have been together in the six years since.
The couple is now planning a "cherry-themed" wedding ceremony, colored with a red, pink and green color scheme.
After being confronted with the $25,000 question and using up two of their lifelines on the query, the pair walked away, but with more than just dough.
The following day, they reappeared briefly before walking away with the money and a free limo ride.
Brides.com will also give them a free ride in a limo to their wedding reception, which is slated for July 2008.
They won't be the only ones riding in style, however.
Shuttles, which also have two plasma-screen TVs and a wet bar, will take their guests from the wedding to the reception will be provided.
"Who Wants to Be a Millionaire" airs at 4:30 p.m. weekdays and can be caught locally on Cincinnati's local CBS affiliate WKRC. The "Wedding Week" ran from Feb. 4 to the 8. One lucky viewer from the "Wedding Week" will win a trip to Fiji.