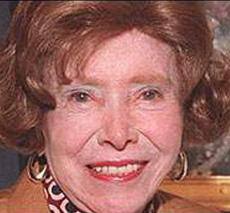 Patricia Corbett did a lot in 99 years – all of it for the arts.
Corbett, who founded the Corbett Foundation with her late husband Ralph, died Jan. 28 in her Hyde Park home at 99 years old.
The goal of the Corbett Foundation was to keep the arts alive in the Cincinnati area. Corbett donated $2.5 million to Northern Kentucky University, which led to the creation of a string teaching program and scholarship money for fine arts students.
"She was truly an inspirational person," said Vice President of Academic Affairs Gail Wells. "She believed in the power of the fine arts."
Corbett also donated $700,000 to renovate the NKU's main-stage theater in 1997. The theatre was later renamed the Patricia A. Corbett Theatre.
Wells said that Corbett also donated $55 million to the arts in the Cincinnati area.
"Like many philanthropists, she was devoted to making the world better