Men go halvesies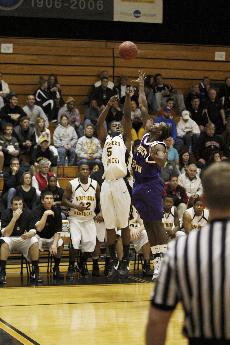 Tim Downer
In its first game since cracking the NCAA Division II national rankings for the first time since 2003, the Northern Kentucky University Men's Basketball team faltered on the road with a 71-63 loss to the University of Missouri-St. Louis, Jan. 24.
The Norse, whose record now stands at 13-3 overall and 7-2 in the Great Lakes Valley Conference, struggled shooting the ball in the first half-29.4 percent, the team's second-lowest percentage for a half this season.
"I wish I had a magic wand to shoot it better, but it's a matter of guys simply making shots. If we were not getting good shots then I would be concerned," NKU Head Coach Dave Bezold said.
UMSL, which is 7-9 overall and 2-6 in the GLVC, shot 51.9 percent in the first half and jumped out to a 32-20 halftime lead.
NKU crept its way back into the game in the second half, narrowing the deficit to four points with 1:48 remaining, but it was as close as the team would get.
The Norse, which has relied heavily on 3-pointers this season, finished 10-for-26 from 3-point arc.
"It's disappointing because we finally put ourselves on the map with a national ranking, and we had an opportunity to build on that," Bezold said on the NKU Sports Information web site. "But the road does this to teams, and we need to bounce back in a hurry."
The Norse did indeed bounce back during the second-leg of their two-game road trip in Missouri, Jan. 26, winning 84-53 against Missouri S'T, a team struggling with a 3-13 overall record and a nine game losing streak.
NKU, which led by eight at halftime, came out in the second half and went on a 20-4 run, extending its lead to 60-36. Dennis Gagai, Mark Hawkins and Vincent Humphrey all scored in double-digits for the game, with Anthony Teague and Scott Bibbins adding nine points each.
"We needed this game after slipping up the other night, and we did a good job of making the open shots," Senior forward Vincent Humphrey said to the NKU Sports Information web site. "One of the things I love about this team is they tell you to keep shooting … they will eventually fall. That's what we did today."
With the win, NKU improved to 14-3 overall and held onto first place in the GLVC East with an 8-2 record.
NKU's next two games are at home against Lewis University, Jan. 31 at 7:45 p.m., and the University of Wisconsin-Parkside, Feb. 2 at 3:15 p.m.