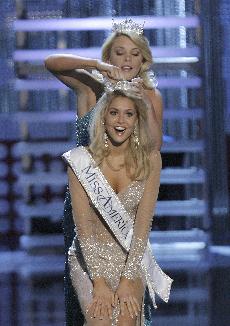 Associated Press
Miss Michigan Kirsten Haglund, a 19-year-old aspiring Broadway star, was crowned Miss America 2008 on Saturday in a live show billed as the unveiling of the 87-year-old pageant's new, hipper look.
Haglund, of Farmington Hills, Mich., sang "Over the Rainbow" and walked a crowd-pleasing strut in a black and gold bikini to clinch the title. She beat Miss Indiana Nicole Elizabeth Rash, the first runner up, and Miss Washington Elyse Umemoto, the second runner up for the $50,000 scholarship and year of travel that comes with the crown.
"The only words that come to my mind is that this is a dream come true, not just for me but for my family as well," Haglund said. "I'm not just standing up here alone."
Haglund, a cheery, classic blond, wore a revealing silver sequined dress and black bikini during the evening gown and swimsuit portions of the pageant. As her platform issue, she promised to advocate for awareness of eating disorders, an illness from which she has recovered.
The crowning at the Planet Hollywood Resort ' Casino on the Las Vegas Strip was aired for the first time on TLC. It capped a four-week reality series, "Miss America: Reality Check," which followed the contestants as they were pushed to shed the dated look of Miss Americas past and adopt a more updated style.
The show was the latest in a series of attempts to find an audience with a younger demographic after more than a decade of declining ratings.
The 52 newly made-over aspiring beauty queens who sought the top tiara sported updated hairdos, sassy attitudes and red carpet-worthy fashion throughout the competition.
Usually tame by modern TV standards, the swimwear competition kicked it up a notch. Most contestants wore black bikinis, and some struck provocative poses and twirled as the audience howled. Contestants also wore blue jeans and added a bit of humor to the traditional opening number, the parade of states.
Haglund's moves won howls from the audience. "I think for the audience, the swimwear and evening wear was much more entertaining, am I right?" Haglund said when asked about the show's new look.
In addition to the $50,000 scholarship, Haglund will embark on a year of promoting the pageant, her platform issue and the Children's Miracle Network, a pageant partner.