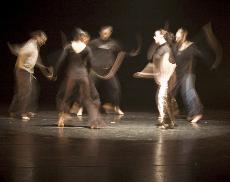 Lindsay Gibson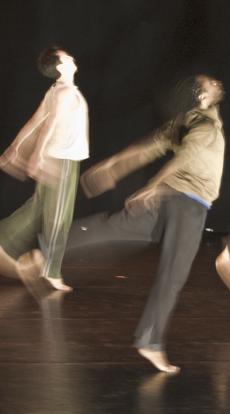 Lindsay Gibson
Dance is often thought of as one of the oldest forms of communication. Ancient Indians used tribal dance to communicate joy and honor. The Greeks chose dance as a form of entertainment. Today, the Koresh Dance Company is continuing this idea through its traveling performances.
The Koresh Dance Company was created in 1991 by Israeli immigrant Ronen Koresh. The dances Koresh creates focus on human emotion and conflict which is portrayed through various forms of dance. The company is comprised of nine men and women from five different countries. Each has an accomplished dance career and helps teach classes while on tour nationally.
On Jan. 25, the Koresh Dance Company performed in Northern Kentucky University's Corbett Theater.
The performance was separated into two acts. The first focused on a medley of '40s and '50s music, including songs like "Ain't Nothin' but a Hound Dog" and "Fever." These dances were up beat and energetic with the accompaniement of professional jazz techniques. The added effect of creative lighting helped spark the audiences attention.
The second half of the performance presented contemporary dances. The feelings of these pieces became more somber when compared to the vibrant ones in the first act.
"The nine members all had identical black rolling suitcases and they would use them as dance aids; it was very mechanical and modern and I had never seen anything like it" said senior theatre major Cary Davenport.
Though the dancers showed talent and training, there were flaws in some of the performance. One of the main distractions was that the costumes did not seem to connect with the theme of the dances. Another was that the occasional low energy of a dancer during a piece became severely distracting.
Sophomore theater major Hayley Powell also pointed out things she found distracting: "The choreography seemed very pretentious because the modern style they used didn't really fit with the music."
Overall, the Koresh Dance Company exuded talent and strength. The company portrayed different styles of dance that proved to be interesting, especially for audience members unfamiliar with those versions.
"It was a nice evening out since it was free and the performers did a really good job. I just don't care for modern dance," Powell said.