Cultural exhibition digs deep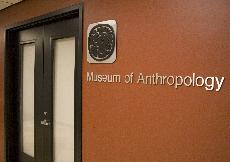 The Museum of Anthropology contains artifacts and objects of cultures, past and present, from all over the world, with exhibits and photographs placed throughout campus.
According to the museum's Web site, The Museum of Anthropology was founded in 1976 by Dr. James Hopgood, who created it as an educational, research and conservational unit portraying certain areas of archaeology and ethnography.
Visiting the museum, located on the second floor of the Landrum Academic Center, requires by appointment with Dr. Judy Voelker.
"We're hoping to expose everyone to different cultures," Voelker said.
The museum features pieces from every inhabited continent.
Along with lectures around campus, the museum also gives presentations at libraries around the area.
The museum is also planning a monthly event in February, entitled "Sandwiched In." The lunchtime presentation will include guest speaker Kathleen Quinn. Food will be provided and there will be a viewing of the museum after the lecture.
Quinn will give a talk called "Troy, What You Didn't Know: The Cincinnati Connection to the Homeric Legend."
"The presentation is a way to learn something new outside of the classroom," Voelker said.
It should run every month aside from the summer, when the archaeologists go out into the field.
"If we can't be open everyday of the week, we can at least expand our outreach through photo displays in other areas of the campus, lectures in public libraries, and eventually on the web," Voelker said.
The archaeology department has a database currently being updated with information on all the objects in the museum.
The database provides details about each object, but any questions one may have during a visit can be answered by one of the many museum volunteers, such as Laine Caldwell, a senior majoring in Anthropology.
"I think it's just important for students to know the museum is here, that it exists," Caldwell said. "They can make an appointment and view what we have."
Students interested in contributing to the museum can take the summer course, Archaeological Field Methods, excavating on a Campbell County site.
All items found are examined by members of the department, which includes Thiel and Christine Williamson, a senior anthropology major.
"If you enjoy physical activity, it's really fun," said Williamson.
To visit the museum online, go to: http://www.nku.edu/~anthro/nkuanthromuseum/