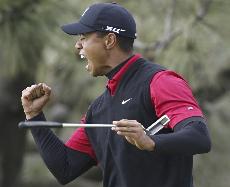 Dennis Poroy AP
Tiger Woods joined some elite company Sunday, even though he might as well have been playing alone.
He thrilled the four-deep gallery with an improbable flop shot from the muck of trampled grass behind the ninth green to save par. He sent Torrey Pines into delirium with a 60-foot birdie putt that started in one direction and slid into the cup from the other. He made three straight bogeys on the back nine, a rarity for him when he's in the lead.
And none of it mattered.
The outcome was never in doubt at the Buick Invitational, only the final score.
It was his 62nd career victory, tying him with Arnold Palmer for fourth place on the tour list.
Having won for the fifth time in his last six starts on the PGA Tour, Woods said he was at another level – even better than 2000 – and still had room for improvement.
Better than 2000, when he won nine times and three straight majors?
"Yeah," Woods said without hesitation.
Woods finished at 19-under 269 to win the Buick Invitational for the fourth consecutive year, tying a PGA Tour record for consecutive wins in a single tournament.
Woods returns to Torrey Pines in June for the U.S. Open, and if this week was any indication, it could be another long week for his peers. The world's No. 1 player has now won six times as a pro at Torrey Pines, and his comment earlier this month that the Grand Slam is "easily within reason" looked every bit of that.
Woods planned to leave Sunday night for the Dubai Desert Classic, and he likely won't return to the PGA Tour until the end of February at the Accenture Match Play Championship. Next in line on the career list is Ben Hogan with 64 victories, and each win moves Woods closer to the record 82 won by Sam Snead.
"You'd like to think it's surprising, but it's not," Charles Howell III said. "It's Tiger."