New York Mets, Minnesota Twins reach tentative deal for Johan Santana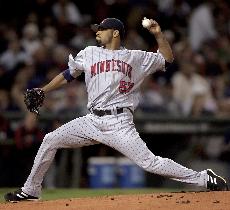 Stephan Savoia AP
Johan Santana is a contract extension and physical from joining the New York Mets.
Beating out the New York Yankees and Boston Red Sox, the Mets reached a tentative agreement Tuesday to acquire the two-time Cy Young Award winner, two people familiar with the deal said, speaking on condition of anonymity because no announcement had been made.
Minnesota would receive speedy outfielder Carlos Gomez, and pitchers Philip Humber, Deolis Guerra and Kevin Mulvey.
"If it's true, obviously, you're getting arguably the best pitcher in the game," Mets third baseman David Wright said.
What originally appeared to be a bidding war for Santana early in the offseason turned into something more akin to a negotiation of attrition in which first the Yankees and then the Red Sox appeared to lose interest and decide they'd rather hold onto their top prospects.
The Mets emerged as the top candidate after December's winter meetings, when the Yankees withdrew their offer, which included pitcher Phil Hughes and outfielder Melky Cabrera, and the Red Sox refused to improve their proposals, which would have sent pitcher Jon Lester or outfielder Jacoby Ellsbury to the Twins along with other prospects.
Santana can become a free agent after this year's World Series, and Minnesota offered him an $80 million, four-year extension that he turned down early in the offseason.
Twins general manager Bill Smith called teams last weekend and asked them to make their best offers. Smith informed the Mets on Tuesday that he was accepting their proposal.
Arriving at the annual Baseball Assistance Team fundraising dinner Tuesday night, New York general manager Omar Minaya wouldn't say much.
"It's out there, but the bottom line is that we're trying to look at ways at improving our club," Minaya said. "That's all I'm going to be able to say about it right now."
Preparing for their final season at Shea Stadium and their 2009 move to Citi Field, the Mets landed the top available pitcher on the market. The trade is one of the two biggest of the offseason, along with Detroit's acquisition of third baseman Miguel Cabrera and pitcher Dontrelle Willis from Florida.
Minnesota will receive New York's Nos. 2, 3, 4 and 7 prospects, according to Baseball America's ranking. The Mets did not include their top farmhand, outfielder Fernando Martinez, or their top young pitcher, Mike Pelfrey.
The next step is for the Mets to negotiate a contract extension with Santana. The three-time All-Star is owed $13.25 million this year and likely will seek an extension of five-to-seven years worth at least $20 million annually.
New York and Santana have until 5 p.m. EST Friday to reach an agreement, a baseball official told The Associated Press, also on condition of anonymity. If the Mets and Santana strike a deal, the players would have to pass physicals and the pitcher would have to formally waive his no-trade clause.
A left-hander who turns 29 in March, Santana gives the Mets a replacement for Tom Glavine, who left New York to return to the Atlanta Braves. New York, trying to bounce back from a record-setting September collapse last season, has a projected rotation that also includes Pedro Martinez, John Maine, Oliver Perez and Orlando Hernandez or Pelfrey.
Santana is 93-44 with a 3.22 ERA in eight major league seasons, winning the AL Cy Young Award in 2004 and 2006. He has been less successful in the playoffs, going 1-3 with a 3.97 ERA.
Santana had a subpar season in 2007, going 15-13. He lost seven of his last 11 decisions as his ERA rose from 2.60 to 3.33 ERA, his highest since 2001, and he allowed a career-high 33 homers – the most in the AL.
For the Mets, the hope is that he will be the next in a long line of aces behind Tom Seaver, Dwight Gooden, Glavine and Martinez.
"For our younger pitchers to develop under a guy like Pedro, a guy like Johan, you can't ask for any better situation," Wright said. "He's going to go out there and he's going to give you seven or eight innings every five days and he's going to get you a win. That's just what it comes down to. I've gotten a chance to get to know him a little bit the past couple years. He seems like a great clubhouse guy. He's going to fit in perfectly with the chemistry that we have."
With Santana gone, there is a big opening in the Twins' rotation. Francisco Liriano is on track to return after missing last season following elbow surgery, but Carlos Silva signed with Seattle as a free agent, leaving youngsters Scott Baker, Boof Bonser and Kevin Slowey as the starters with the most experience.
"Joe Mauer's job, and my job, just got a lot tougher," backup catcher Mike Redmond said. "We're going to have to work a lot harder to help these guys out the best we can."
Humber, a 25-year-old right-hander, has made one start and four relief appearances for the Mets during the past two years, and went 11-9 with a 4.27 ERA last season for Triple-A New Orleans. The 22-year-old Gomez batted .232 in 125 at-bats with New York last year and .275 with 19 steals in the minors.
Guerra, who turns 19 in April, was 2-6 with a 4.01 ERA at Class A St. Lucie, and Mulvey, who will be 23 in May, was 12-10 with a 3.20 ERA in 26 starts at Double-A Binghamton and one at New Orleans.