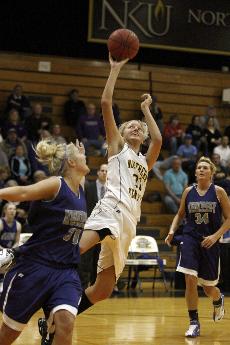 Tim Downer
The Northern Kentucky University Women's Basketball team went from first place in the Great Lakes Valley Conference East Division to tied for third after losing two road games, the first to Missouri-St. Louis, Jan. 24, and Missouri S'T, Jan. 26.
Against Missouri-St. Louis, NKU shot just 31.7 percent from the field-the team's lowest percentage of the season-and 21.4 percent from 3-point arc.
UMSL led by 11 at halftime, and were able to hold on for a 56-51 win.
UMSL came into the game with a 4-10 overall record and 3-5 in the GLVC. NKU, the No. 14 Division II team, entered with a 13-3 overall record and 6-2 in the GLVC.
NKU Head Coach Nancy Winstel dismissed the idea that her team overlooked UMSL in any way.
"Absolutely not. We prepared for them just like we prepare for all teams. They are a very good team that defeated Grand Valley State (on the road), they also have played many teams very tough," she said.
Winstel went on to say, however, that she was not happy with the team's effort.
One bright spot from the game came with NKU's first basket, which was scored by senior center Angela Healy and was her 1,000th point of her career. She became just the 24th player in NKU women's basketball history to reach that plateau.
The loss dropped NKU's all-time record against UMSL to 17-3.
The Norse had a chance to salvage part of the road-trip, facing Missouri S'T, Jan. 26, but were beaten, 66-42.
S'T, which came into the game with an eight-game winning streak and a 13-1 overall, 7-1 in the GLVC record (the No.1 team in the West Division), held a one-point lead over the Norse at halftime.
S'T extended its lead in the second half by shooting 66.7 percent and limiting NKU to just 26.9 percent shooting, for the half.
Along with poor shooting, the Norse had trouble handling the ball, giving up 27 turnovers-the team's third-highest total on the season.
"We had too many unforced turnovers, and many of them were just passing and catching the ball," Winstel said on the Sports Information web site. "I know I'm getting tired of watching this, and the players have to realize there is still a long way to go in this season. They have to decide how they want to finish it, and this is frustrating at the moment."
NKU is at home for its next two games against defending GLVC champion Lewis University, Jan. 31 at 5:30 p.m. and the University of Wisconsin-Parkside, Feb. 2 at 1 p.m.
"I certainly hope our team will respond on Thursday against a very good Lewis University team," coach Winstel said. "Home court is only an advantage if you make it one."