Women win, tie Indy in East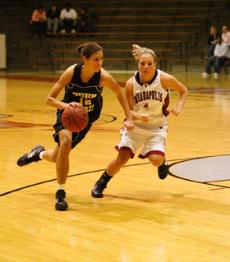 Tim Downer Photographer
The start to this season's conference schedule has been a little smoother than the 2006-07 for the Northern Kentucky University Women's Basketball Team.
The 65-44 win over Kentucky Wesleyan Jan. 19 at Regents Hall showed the growth of this well-balanced team.
It did not take long for the Norse to build up a lead against the Panthers and NKU kept that advantage throughout the game.
"I thought we did a good job today, setting screens and getting some open shots," said head coach Nancy Winstel. "Danyelle Echoles especially did an excellent job of executing with the screens and opening up the floor for us."
NKU senior Angela Healy fell just short of hitting the 1,000-point mark in her career as she scored 15 points in the game to point her career total at 998.
Healy is expected to hit the 1,000-point milestone with her first shot made or her first two free-throws, becoming the 24th in Norse history to culminate 1,000 points, according to the NKU Sports Information Web site.
To score her 1,000th point at home would have been exciting for Healy and the home fans, but she said the win was more important than the milestone at this point.
"It would've been fun for me to get the points here," Healy said. "I appreciate those that have come to see me, but one of my goals is to get rebounds for this team and for the team to be doing a good job."
Healy also added 10 rebounds, four blocks, four assists, and four steals to lead the Norse to a 13-3 overall record, and moving to 6-2 in the Great Lakes Valley Conference, moving into a first place tie in the Eastern Division with Indianapolis, which lost to Quincy 82-69, Jan. 19.
Junior center Cassie Brannen led all NKU scorers with 17 points, going 5-for-8 from the field and grabbing eight rebounds.
"(Brannen and Healy) did a good job of getting to the free-throw line," Winstel said about their performances. "You play the way you practice and these two showed that today."
The win was the fourth consecutive victory for the Norse (13-3, 6-2 GLVC) as they set to the road for games against Missouri-St. Louis (4-10, 2-5 GLVC), Jan. 24 and Missouri S'T (12-2, 6-1 GLVC) Jan. 26.
NKU returns home to Regents Hall, Jan.31 against Lewis.