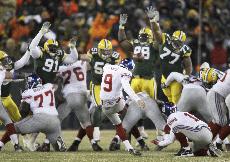 David J. Phillip Associated Press
The c-c-cold couldn't stop the New York Giants.
Lawrence Tynes kicked a 47-yard field goal in overtime to give New York a 23-20 victory over the Green Bay Packers in the frosty NFC title game Sunday night.
"I didn't notice the weather at all," said Giants running back Ahmad Bradshaw, who ran for a touchdown and had another nullified by a penalty in the fourth quarter. "It only lasted for three hours, but this championship lasts for a lifetime."
At kickoff, the temperature was 1 below zero with a wind chill of 23 below.
The temperature dropped slightly over the course of the evening in the second coldest home game in Packers' history behind the Ice Bowl.
During the game, Manning ran in place at times and kept his hands buried in his jersey pouch in an effort to stay warm, and his teammates were huddled in heavy overcoats.
"On the sideline, they had the heaters, I stood by that the whole game," said Manning, who went 21-of-40 for 254 yards. "I never took my helmet off, I just stood by the heaters, stayed warm, had big gloves around my hands to keep my hands warm, that was the most important thing."
Giants running back Brandon Jacobs said the conditions were irrelevant.
"I would've played in negative 50 to play in (the Super Bowl) and that's what we did," Jacobs said.
By comparison, it was 23 degrees in North Pole, Alaska, and at kickoff in the New England Patriots' 21-12 victory over the visiting San Diego Chargers in the AFC championship game in Foxborough, Mass.
Though warmer than Green Bay, it was the lowest temperature for any of the three championship games played in Foxborough over the years. The wind chill was 9.
But the Packers discounted the weather.
"It seemed like some guys just had some cramping problems, which was maybe playing so hard, being out there," said Packers defensive end Cullen Jenkins.
No matter the temperature in Green Bay, fans were determined to have a good time, taking what little snow wasn't shoveled out before the game to make snow balls.
Many players in the AFC championship game wore short sleeves, and several, including linemen, wore gloves.
In Green Bay, Packers' offensive linemen and some defensive linemen have a rule that they do not wear sleeves in any weather. About half the players on both teams went sleeveless.
Brett Favre played without gloves despite the cold, while Manning wore a red glove on his nonthrowing hand.
One person who knows all about that cold is Bart Starr, the Packers' quarterback during the Ice Bowl game against the Dallas Cowboys on Dec. 31, 1967, when the temperature was 13 below with a wind chill of minus-46.
One fan at that game died of exposure.
Starr said the key for players dealing with the elements is their approach.
"I don't want this to sound trite, because it's not – it's attitude," Starr said. "It's a mental thing and you, an individual, regardless of what's coached to you, you have to put it out of your mind and focus on what the purpose and what your objectives are. You have to push it away."