Norse win puts team in top 25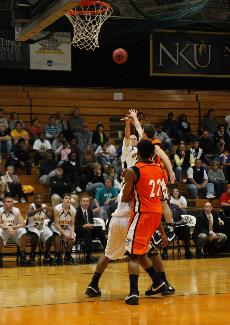 Tim Downer Photographer
It was a tale of two halves for the Northern Kentucky University Men's Basketball team in its win against the No. 2 ranked team in the Great Lakes Valley Conference East Division, Kentucky Wesleyan College, Jan. 19.
In the first half, NKU made just nine of its 30 shots taken-30 percent.
Of those 30 shots, 17 of them were 3-point attempts, of which the team made only three-17.6 percent.
However, despite the first-half shooting woes, NKU found itself down by only four at halftime.
"When you shoot 30 percent and you're only down four at halftime, you feel pretty good about it. You feel like in the second half you're going to rebound and your shooters are going to make shots," NKU Head Coach Dave Bezold told Sports Information after the game.
In the second half, the Norse came out on fire shooting the basketball and quickly turned the score in their favor.
They went on a 21-8 run to start the half, and were spurred on by three straight 3-pointers from Harrison Morton.
NKU made 8 out of 12 3-pointers in the half and shooting 57.7 percent from the field.
KWC was able to stay with NKU for most of the game with excellent free throw shooting.
The Panthers finished the game 23-of-24 from the line, after making their first 17 attempts.
However, with the flurry of 3-pointers from NKU in the second half, KWC's free throws were not enough to keep pace.
The final score was 69-62, and with the victory, NKU improved its record to 13-2 overall and 7-1 in the GLVC.
The win was also the seventh straight victory over Kentucky Wesleyan for the Norse.
NKU's next game is on the road against Missouri-St. Louis on Thursday, Jan. 24 at 7:30 p.m.
On Jan. 17, the Norse began their two-game home stand against a rebuilding Southern Indiana that did not return a single starter from last year.
Coming into this year's meeting, NKU had lost its last eight games against SIU over the last four seasons, but this year was different, with SIU no longer dominating the GLVC.
The Norse cruised to a 16-point victory, with freshman Dennis Gagai setting a 3-point percentage record along the way.
Gagai scored 29 points, hitting 7 out of 8 3-point attempts at 87.5 percent, eclipsing the previous best mark of 77.7 percent.
"When our guards are passing the ball as well as they did and getting me open, it makes it a lot easier to get me into that flow, so I give a lot of credit to those guys," Gagai told Sports Information.
Other top scorers for NKU were Scott Bibbins, 19 points, Harrison Morton, 10 points, and DeAaron Williams, eight points.
With the two wins, NKU cracked into the Division II Top 25 national rankings, coming in at No. 25.