BMO mentors help students succeed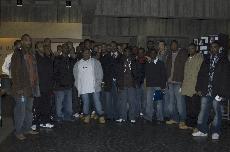 Rather than enjoy a snow day, Holmes High School students checked out Northern Kentucky University Jan. 22.
Hosted by the Black Men's Organization, the Office of Admissions and the African American Mentoring Program, students were assigned to a mentor who took them to classes and talked to them about the college experience.
The program not only introduces the students to the college scene, but is also meant to put them in touch with successful black men.
"They need to see black males as more than what the media shows. They need to see themselves in a different light," said Josh Harris, president of the BMO.
Harris added that another reason they bring students to campus is to give them a vision of what they can become.
"We want to make sure these men have a dream," Harris said. "(The mentors) are the realistic dreams."
This is the second year of the mentoring program, which was fueled by the addition of two student admission counselors in the Office of Admissions: one at Holmes High School and one at Newport High School.
"These positions help give support and build a relationship with both schools," said Carmen Myrick, assistant director of admissions.
The combination of NKU's retention programs, mentoring event and student organizations is meant not only to attract minority students, but also to see them through to graduation. According to the U.S. Department of Education, the graduation rate of black students is 20 percent lower than their white counterparts.
"I think that people don't do as well because they can't see where they could be in four years," Harris said. "Mentoring gives them someone to relate to. It's positive reinforcement to encourage (the students) to aim higher."