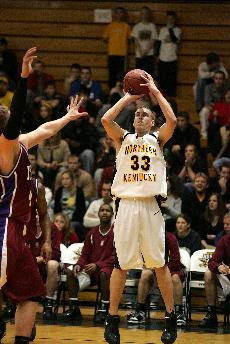 Tim Downer Photographer
When March comes rolling around, most basketball fans fill out the brackets and pick where the teams will go into the NCAA Tournament, acting as the coach and "know-all" of each team.
Well, for one Northern Kentucky University graduate and former basketball player, the dream of coaching and being in March Madness has come true.
Kevin Schappell was offered a graduate assistant position for Bob Huggins last season, while Huggins was coaching at Kansas State.
When Huggins left and went to coach at West Virginia, the same position was there for Schappell and not every kid-it was a dream come true.
"When I was little, I thought that I would be 6'3″ 185 lbs. and would be playing in the NBA," Schappell said. "I didn't realize that would not happen 'til my first year of college, but I knew that whenever I was done playing, I wanted to be a coach."
For Schappell, the switch from playing to coaching has been easy for him, but a piece of him still longs for the court.
"It has been a pretty smooth transition for me so far," Schappell said. "It keeps you around the game. I mean I miss playing, but right now I love what I am doing."
It would be a college basketball fan's dream to be a coach. But for Schappell, not only is he a graduate assistant, he is also under the helm of former University of Cincinnati Basketball Head Coach Bob Huggins.
"I am thankful for the opportunity that coach Huggins has given me," Schappell said. "To learn from one of the best coaches in the country it has been an honor. He makes the game so simple and I have learned a lot from him."
Along with the changes from being a player to being a coach, is the variation from Division II to Division I. The move from riding on a bus with NKU in the Great Lakes Valley Conference to flying on a plane at WVU, are just some of the changes Schappell has faced.
"The two divisions don't even compare," Schappell said about the traveling arrangements. "The money is bigger at this level."
Schappell still keeps in touch with NKU Head Coach Dave Bezold and his former teammates.
Schappell said that he text messages the players to find out the score of the game and talks with Sports Information Director Don Owen every other day.
His fondest memories from his playing days here for the Norse was making the NCAA Tournament last season and ending the season as one of the best teams in the country.
"It was a great experience playing at Northern and making the tourney last season, was the biggest moment for me," Schappell said. "And coming out being one of the best teams in the nation, I will never forget that."
As for his future in coaching, Schappell is currently working towards a master's degree in athletic coaching education at WVU.
"My dream job as a head coach would be at NKU," Schappell said. "The administration at NKU is doing an excellent job and I would love to come back to the Cincinnati area and NKU, it's just a long way away for me."