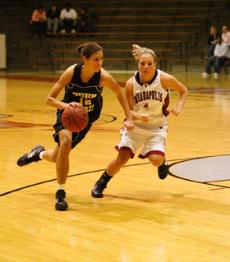 TIm Downer
After beating an undefeated Indianapolis on its home court Jan. 10 with a game-winning shot, junior guard Jessica Slack continued her hot shooting against St. Joseph's of Indiana. The Norse knocked off the Pumas 79-39, Jan. 12 in Rensselear, Ind., at Scharf Alumni Fieldhouse.
Slack started the game with a trio of three-pointers in the opening minutes of the game, jumpstarting the blowout over the Pumas. She finished the game with 13 points, three assists and two steals, as the No. 15 Norse improved their record to 11-3 overall and a 4-2 tally in the Great Lakes Valley Conference.
"She hit her first couple of shots and that helps your confidence," said head coach Nancy Winstel. "Jessie's (Slack) confidence is high right now and you have to credit that high to the Indy game. Also you have to look at Angela Healy, Cassie (Brannen), Nicole (Chiodi) were also steady for the team to win."
Winstel was pleased by the performance of her players, after defeating the Greyhounds on their home court.
"The Indy game was big for us and you could see the confidence carry over to the St. Joe's game," Winstel said.
The Norse had five players in double figures. Junior guard Brackman also had four rebounds and three assists for NKU. She helped solidify a first half lead with 10 points to give the Norse a 39-21 lead at halftime.
Brackman scored 15 points in the game to lead all NKU scorers.
"Karen played very well and has been steady all year," Winstel said. "In her first couple of years she didn't play a lot, but she has been called upon to step up and she has played well."
Senior center Healy had a double-double with 12 points and a team leading 16 rebounds in the game. Healy is the climbing to the summit of 1,000-career points. She is now at 967.
"Healy comes into each game and practice to get better," Winstel said. "Her preparation for the games is good and when it comes to game day she is ready to put that preparation to good use. She is such a competitor and wants the basketball, but she understands the team. Her (Healy) and Nicole are the leaders of this team and that is because they practice what we preach."
The win by the Norse in Scharf Alumni Fieldhouse snapped a two-game losing streak at St. Joseph's.
Senior point guard Nicole Chiodi scored in double figures with 10, while pulling down eight rebounds and dishing out four assists for NKU.
"It was nice to beat St. Joe's when you haven't won there in two years," Winstel said. "We got two road wins and when that happens it helps your team. You are expected to win your home games and go out and battle on the road and get a 'w'. If we would have beaten Indianapolis and then lost to St. Joe's, the Indy game would not have meant as much."
The Norse shot 50.8 percent in the game and shooting under that mark from 3-point range, going 7-15 from behind the arc.
Defense was key for NKU as it held the Pumas (1-12 overall, 0-6 GLVC) to only 22.9 percent shooting in the game and only scoring 18 points in the second half. The Norse also out-rebounded St. Joseph's to a 48-21 advantage.
NKU will head home to host Southern Indiana, Jan. 17 at 5:30 p.m. in Regents Hall. The Norse will conclude the two-game homestand with a matchup against Kentucky Wesleyan, Jan. 19 at 1 p.m.