Norse add two conference wins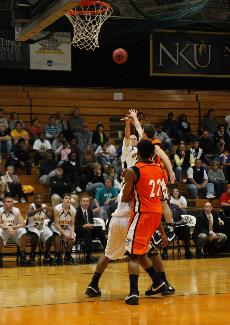 Tim Downer
The Northern Kentucky University Men's Basketball Team improved its overall record to 11-2 and 5-1 in the Great Lakes Valley Confernce, with a 58-55 comeback win over conference opponent Saint Joseph's, Jan. 12.
St. Joseph's-7-7 overall, 3-3 in GLVC-held a nine point lead over NKU in the first half, but the Norse were able to erase the deficit and tie the game up before halftime.
"I took the entire starting five out after a sluggish start. We battled back and were fortunate to be tied at the end of the 1st half," said head coach Dave Bezold.
In the second-half, the game remained tight, but with some last-minute clutch shooting, the Norse were able to edge out a 3-point victory.
Freshman standout Dennis Gagai had a big hand in securing the win with quality shooting down the stretch, which included a pair of 3-pointers in the final 1:24 of the game and a pair of free-throws with 7.1 seconds left.
Gagai led the team in scoring with 14 points – eight of which came in the final two minutes.
Leading up to the final minutes of the game, Bezold admitted he was reluctant to leave Gagai in the lineup due to his lack of experience as a freshman, coupled with some poor shooting recently.
However, Bezold, with the advice of assistant coach Pat Ryan, elected to stick with the youngster and it paid off in a big way.
"Dennis has proven to be able to knock down shots in practice and in games. We were happy he hit his last two 3's late because it seemed like all game long we could not make consecutive jump shots," Bezold said.
Gagai gave credit to his teammates after the game.
"I knew my shots had to start falling sooner or later, and I credit our point guards for getting me the open looks in this game. They did a great job of dishing the ball," Gagai told Sports Information.
With the win, NKU held on to the top ranking in the GLVC East Division, ahead of Kentucky Wesleyan, which has a 4-1 conference record.
NKU will host conference rival Southern Indiana, Thursday, Jan. 17, at 7:45 p.m. at Regents Hall.
Southern Indiana, which did not return a single starter from last year, is struggling with a 9-4 overall record-3-2 in the GLVC.
On Jan. 10, NKU began the two-game road trip against The University of Indianapolis, handily defeating the Greyhounds 74-59.
Vincent Humphrey, Harrison Morton, Anthony Teague and DeAaron Williams all scored in double-digits for the Norse.
NKU's defense kept Indy to under 40 percent shooting for the game, and held its best shooter, DeAndre Brock, who entered the game averaging 17.7 points per game, to just 12 points that night.
After the game, Coach Bezold commended his team on its defense.
"Our guys contained Brock the entire game, and that's tough because he is a fantastic scorer," Bezold said. "David McFarland did a great job on him, and we did a good job of stopping their penetration."
NKU's Anthony Teague made five 3-pointers, and as a team, NKU made 10 of 22 from behind the arc.
"Anthony Teague hit some big shots in this game, and he is as good as anyone in this conference when he is on," Bezold told Sports Information.