'Demon Barber of Fleet Street' slices through box office sales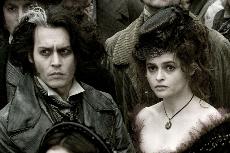 When Hollywood tries to turn a Broadway show into a cash cow, there are a few elements they have to nail. The most obvious and important, of which is having a vocally talented cast.
"Chicago" had Catherine Zeta-Jones and Renee Zellweger, "Rent" had Idina Menzel and Anthony Rapp and "Hairspray" had John Travolta and Queen Latifah. What was Hollywood thinking when they cast "Sweeney Todd: The Demon Barber of Fleet Street?"
Not that any big name other than Johnny Depp could've pulled off the demon barber, but maybe someone should've asked him to sing a few lines before adding him to the cast list.
Depp plays Sweeney Todd, a barber who was falsely jailed so Judge Turpin (Alan Rickman) can swoop in on Todd's beautiful wife and daughter. After 15 years, Todd, originally Benjamin Barker, changes his name and returns to London to seek his revenge.
Although the vocals leave a lot to be desired, the songs themselves are just as wonderful as they have always been. This self-proclaimed musical thriller prides itself on numbers such as "No Place Like London," "A Little Priest," and "Johanna."
The songs are morbid, funny, and sometimes, touching. Most importantly, they are essential to the plot. No amount of blood and guts can make this movie bearable for those who just aren't into musicals.
When Stephen Sondheim wrote "Sweeney Todd," he probably didn't plan on Tim Burton packing the show with special effects and gory sequences (maybe in an attempt compensate for something?). The stage show thrives through music. However, in lieu of vocal abilities, the effects are the glue that hold this show together.
What the cast lacks and the show can't change, Burton makes up for. Even from the opening credits, the style he developed with "Charlie and the Chocolate Factory," "Beetle Juice" and "Sleepy Hollow" drips through. But beware. That well-known style can make viewers motion sick.
Luckily for producers, it's easy to sell seats to a show about revenge, blood and meat pies when you pack it with big names. Since it's Dec. 23 opening, "Sweeney Todd" has grossed more than $28 million.
However, anyone who wants to see "Sweeney Todd" in its true form should see the show when Broadway brings it to Cincinnati. The show will run from Feb. 19 until March 2 at the Aronoff Center for the Arts. Tickets are on sale now for $20 to $60.