Dorm makeover makes the most of small spaces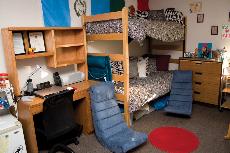 Although it isn't exactly a 'move that bus' affair, the Activities Program Dorm Do-Over set out to change at least two lives.
Roomies Sam Frankel, a senior fine arts major, and Jake Lehnert, a sophomore computer information technology major, left their Commonwealth room to comedian, former HGTV personality and dorm makeover artist Claire Berger for a complete, though not permanent, upgrade Oct. 30.
"Last week was the first time we heard that we'd won," Frankel said. "I'm really excited to have our room be a more comfortable, livable place where we can entertain."
Contest hopefuls had to make a video of their room explaining why they need a full-blown makeover. Frankel and Lehnert won because their video pleaded a funny, yet solid, case for a makeover, APB advisor Josh Gruenke said.
The contest began during the summer of 2007.
"A student came up with the idea and we figured out how we could make it happen," Gruenke said. With the help of Furniture Fair and Pricegrabber.com, Claire Berger took on a Northern Kentucky University room.
"I loved the guys' fabulous video," Berger said. "It told me a lot about them and kept me from having to work from a blank palette."
Berger arrived toting slip covers, storage containers and chairs.
"I've never painted a wall or done anything permanent," Berger said. "I always work with what I've got."
Keeping her designs on a moveable level also makes the additions easy for the students to take with them.
"I have a lot of people tell me that the items we gave them made their way to the student's first apartments," she said. "That's how it should be."
Using non-permanent items also keeps the makeover within NKU's housing restrictions.
"They can be creative within the restrictions," Interim Housing Director Peter Trentacoste said. "We offer a shell for a room, but the students have to create their space on their own."
Berger kicked the guys out of the room for the day so the upgrade would be a surprise, but they weren't nervous about the results.
"I trusted her to do whatever she could," Frankel said. "We just have so much stuff, I'm sure it was a challenge."
After the revealing, when the guys could finally relax in their madeover dorm, they enjoyed the clean, organized and livable new space.
"I never thought you could do anything like what she did in a Commonwealth room," Lehnert said. "I love it, it's amazing."
Having a room a student loves is about more than entertaining and keeping things organized.
"Students need to feel comfortable in their rooms," Trentacoste said. "At the end of the day, it's the place they come back to and they need to like it."