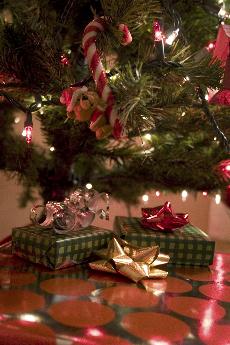 Regardless of whether the thought of good 'ole Saint Nick makes you want to hum "Jingle Bells" or wish to be bashed over the head with a fruitcake, the common holiday denominator for every Scrooge and Bob Cratchit is gift-giving. We all should look for a deeper meaning behind one of the greatest holidays in existence. However, there is no overlooking the reality of the almighty gift exchange. Unfortunately, the Dec. 25 gift Olympics does not come easily for some. Never fear. The Northerner is here with six steps to making you a gift-giving guru that'll make even Santa look like an amateur.
Know your giftee
This may seem elementary, but many perfect-gift-pursuers get so caught up in the rush of fighting to get in the doors of local retailers, they forget this essential step. What does blank love? What does he or she enjoy to do? Keep the person you're buying for in mind. Do NOT buy a gift because it's something you would love or because that semi-crushed hat just so happens to be 99 percent off. This is your chance to show the people you care about you've actually listened to them for the past year.
When in doubt
Although you may be completely clueless about what your best friend wants for Christmas, you have to at least know some of the stores most frequented by him or her. Does he drag you to Best Buy every single day to check on the latest Wii releases or is she unable to make it through the week (or minute) without hitting up her favorite local coffee shop? Buy a giftcard to that store/shop/attraction! Although some view giftcards as an exchanging taboo, in actuality, if the card is chosen appropriately, it can be just as considerate as a regular gift. Plus there's the added bonus of your giftees getting exactly what they want. What to avoid
OK, you think giftcards are tacky and you're confident in your skills as a giver – but most likely you can still benefit from a few thoughts on which gifts should never be chosen, wrapped and given. First of all, just say no to clothes. Unless you have known this person since birth, giving clothes for the holiday is a risky business. You're bound to choose the wrong size, color or style, which will incite dismay rather than delight in the person it's gifted to. Also, avoid giving anything holiday-related. There is no use for a reindeer tie or a Christmas tree vest after Dec. 25. If you're traditional at least, means giftees will only get 12 hours of use from your gift before he or she packs it up for a year. Don't do it.
Presentation is everything
Unless you happen to be on the staff of a newspaper or you're buying for a journalist, wrapping your holiday gifts with newspaper, though expedient, doesn't quite equate Christmas cheer. Instead, invest in quality wrapping paper, tags and bows to present the gift that took your all the way it deserves. Putting in that extra effort and time in making your gift look like a million bucks will make the giftee feel the same. If store-bought isn't your thing and you happen to be crafty, why not make your own wrapping paper? Go to a craft store for supplies such as stamps, paint and a roll of paper to put your own personal touch on Christmas. You can also make your own bows using nothing more than a pair of scissors and the ribbon of your choice for a personal touch. Search "create bow" on www.youtube.com for videos demonstrating bow-making techniques.
Set some boundaries
While there will always be the people, such as your family, who you are guaranteed to give a gift to and receive one from, that is not always the case with others. It's hard to know when a friend or coworker will give you a gift, even harder to know if it's a serious or expensive one – and why it's easy to be blindsided two days before Christmas with a very nice gift from a person you had no idea was getting you something. Avoid this awkward situation by having a simple talk with people you aren't sure about, discussing points such as price and the date it will be exchanged. Your cubicle-neighbor will thank you.
The thought counts
Remember that when you set out to find the perfect gifts for your loved ones this December, no matter what the outcome, you did your best to surprise the people you care about with exactly what they wanted for Christmas. This thoughtfulness and goodwill, which define this season, will shine through in your gift, even if it is three sizes too small.