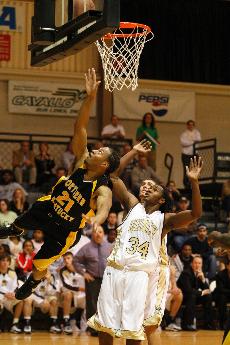 Tim Downer
Heading into the Quincy/Southern Illinois at Edwardsville road trip, the Northern Kentucky University Men's Basketball Team had compiled a combined 3-10 record against the schools since the 2003-04 season.
Upon return, the record now sits at 5-10, after a clean sweep of the two conference opponents.
Against Quincy-a team that NKU had lost to the last four times by a combined 12 points-the Norse were finally able to pull out a close win after taking the lead on a lay-up by Harrison Morton with just two seconds left. The assist came from Billy Finnell as he drove the lane with under 10 seconds remaining and found Morton near the basket.
"It seems like they always hit last-second shots to beat us after coming from behind. For a moment, I thought it was going to happen again," head coach Dave Bezold said after the game according to the NKU Sports Information Web site.
Morton lead NKU scorers with 20 points and Anthony Teague added 14 points. The Norse finished 11-for-20 from the 3-point range. The team also finished above 50 percent from the floor, at 55.1 percent for the game.
The team next headed to Southern Illinois at Edwardsville and knocked off the Cougars Dec. 1 by a score of 83-67, improving the Norse's overall record to 4-1, with a 2-0 conference record.
Junior guard David McFarland had a career-best 10 assists and three 3-pointers in the first half to lead the way for the Norse early.
"He made SIUE do something differently in the first half by hitting those shots because they were in the same kind of defense that Grand Valley played last year in the NCAA tournament, and that was not guarding him at all," Bezold said after the game. "He does whatever we need to do to win, and those were big 3-pointers he made."
NKU also got big contributions from Anthony Teague, Harrison Morton and Scott Bibbins, who all scored in double digits.
"I wasn't sure when the last time we swept this road trip, but I am really proud of this group for the way they competed against two tough opponents," Bezold said after the SIUE victory. "We were a little sluggish in the first half, but we were still ahead. Then we came out in the second half and extended the lead."
The game marked the last regular-season meeting between the two schools as Division II GLVC opponents, as SIUE will be moving to Division I next year.
NKU's next game is at home against UC-Clermont, 7 p.m. Dec. 8 in Regents Hall, which will begin a seven-game home stand for the Norse.