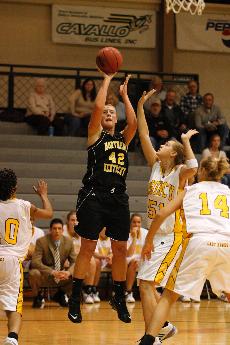 Tim Downer
After suffering their first loss of the season on the road at Quincy two days ago, the Northern Kentucky University Women's Basketball Team recovered in a big way with a win on the road over Southern Illinois at Edwardsville 75-67, Dec. 1.
"This was a game we really needed to have after what happened at Quincy. To be able to bounce back and play this well says something about the character of our team," NKU Head Coach Nancy Winstel said, according to the NKU Sports Information Web site. "I am really proud of the way they took it to a good team on the road. Our players were not happy with the way they played at Quincy, and neither was I."
Junior guard Jessie Slack scored 20 points, had five assists, four rebounds and five steals to lead the way for the Norse. Junior center Cassie Brannen and senior center Angela Healy each had 14 points to make it a good team win.
For SIUE, senior guard Amber Shelton had a game -high 33 points in the loss. Edwardsville is now 4-2 overall and 1-1 in conference play.
The Norse, ranked 15th nationally, built a big lead in the first half and led by 18 with near 14 minutes to go in the second half.
The lead dwindled as the Cougars made a late second-half run and cut the lead to four with nearly six minutes to go. That was as close as the Cougars would get as the Norse made free throws down the stretch to get their first conference win.
For the Norse, senior guard Nicole Chiodi scored nine points, collected six rebounds and had three steals. Junior guard Karen Brackman had an equally productive game, with eight points, seven rebounds and two blocked shots. Winstel noted Brackman's solid defensive play after the game.
"(Brackman) did a great job on (Whitney) Sykes defensively. She stayed home on her and didn't give her any good looks," Winstel said.
Sykes ended up 0-for-5 shooting on the night and was kept well below her scoring average of 12.2 points per game, finishing with 5 points on free throws.
NKU held SIUE to 35.7 percent shooting from the field. SIUE did outrebound the Norse by a 46-33 margin, which included 16 offensive boards.
NKU improved to 3-1 overall and 1-1 in the conference and will play host to one of their toughest tests of the year at National Association of Intercollegiate Athletics powerhouse Georgetown at 7 p.m. in Regents Hall.