Architect adorns art with alcohol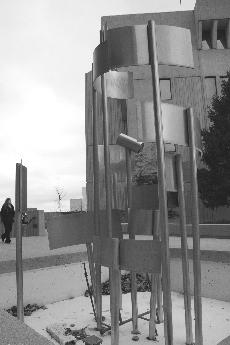 During the semester, you may have found yourself casually walking in the space between Nunn and Founders halls and did a double take at what tops the "Dust Devil," the fountain located behind the building. It couldn't possibly be a beer can, could it? On a dry campus?
"It is definitely a beer can," said Addison Clipson, the designer of the fountain. "I wanted to include something that could easily be swept up by a Dust Devil and a beer can seemed right." Clipson is an architect, sculptor and the president of Addison Clipson Associate Architects Inc.
Clipson created the Dust Devil in 1973 as a more playful legacy, in addition to his other more serious contributions to Northern Kentucky University, some of which include Regents Hall, Nunn Hall, the Fine Arts Building and the sundial outside of Nunn Hall.
"It was a fun thing to do and I wanted to leave a piece of myself behind on the campus other than the buildings," Clipson said.
So, why a Dust Devil? "I wanted something that was kinetic and moved like a Dust Devil does. It's also a good scale," Clipson explained. "I didn't want to make it a tornado or anything because that's just too big. A dust devil is a good size to make art from."
Clipson didn't intend to make any statement about NKU's policy on alcohol, however. "I didn't have a political message to convey, but you can't tell me there's a campus anywhere in this country that's completely beer free," he said.
Clipson himself doesn't take the sculpture too seriously. "You can't read too much into it. I just thought it was a fun bit of levity. It is something people can talk and wonder about."