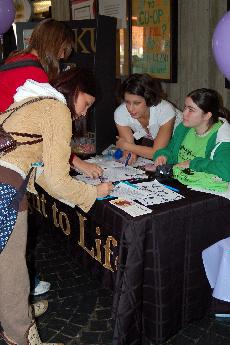 Nancy Bhola
Northern Right to Life sponsored the second annual Pro-Life Day with Feminists for Life Nov. 20.
NRTL and other organizations gathered in the University Center for a pregnancy resource fair from 1 to 4 p.m. The day continued with Feminists For Life President Serrin M. Foster delivering her speech "The Feminist Case Against Abortion" at 4:30 p.m. in the Eva Ferris Auditorium.
Foster became Feminists For Life president in 1994. She has helped pregnant and parenting students, creating the Women Deserve Better campaign. According to its Web site, the movement is an educational effort aimed at highlighting the failure of abortion to meet the needs of women.
Foster encouraged people who are pro-life and pro-choice to talk civilly. She said abortion shouldn't feel like a free choice to pregnant college students without housing, daycare and maternity coverage. "Abortion is a reflection that we have not met the needs of women," Foster said.
Foster added that feminism represents nonviolence, nondiscrimination and justice for all.
NRTL member Callie Armstrong, a senior majoring in social work, said Foster was brought in to clear-up the misconceptions about people who are pro-life. Armstrong said feminism and pro-life should be synonymous.
"We feel all too often people think if you're pro-life you're anti-woman," Armstrong said.
Armstrong said NRTL has received massive support from students on campus. Services provided by NRTL include fundraising, campaigning for public awareness and volunteering for pregnancy centers.
"We really want the students to know they have multiple options," Armstrong said. "They don't have to be afraid and alone, because they're not." NKU Advocates for Life is a support group for NRTL. It made its public appearance during Pro-Life Day. Advocates for Life has 27 faculty, staff and alumni members committed to supporting students in a pro-life capacity. The group's mission statement says it is committed to defend the lives of the defenseless unborn while compassionately sustaining the needs of the mother."
Dr. Sharlotte Neely said she agrees with the group's mission statement.
"While a majority of professors may be pro-choice, there are at all universities a significant number of those who are pro-life but fear that speaking out may jeopardize their jobs," said Neely, a professor of anthropology and member of Advocates for Life.
Neely added "students deserve to hear both sides of the abortion issue."