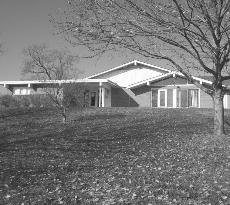 The Honors House was a home for the university's presidents before it was a place to learn for students.
The ranch-style house can be seen on the corner of Nunn Drive and University Drive.
It was built on an area of farmland in the late 1960s, now Northern Kentucky University. When Dr. Leon Boothe was the president of the university, from about 1983 to 1994, he lived there with his family and dubbed it the President's House. To accommodate the family, the house had to be added onto.
In 1998 President James Votruba decided to live off campus, he offered the house to the Honors Program, which was started in the early 1980s. Before moving into the house, the Honors Program was on the fourth floor of Landrum Academic Center without an office.
"The Honors House" is made up of the Honors student center, four classrooms for about 400 Honor students, a computer lab and an administrative center for the faculty and staff.
"We are a community of
students and faculty work
ing together on projects and classes in the same area," Honor's Program Director Thomas Zaniello said.
The house itself seems a bit secluded from the rest of the campus. An organic garden, which students planted and keep up, surrounds the house and is the reason for such a spacious yard. In a class called "How does your garden grow?" students must grow a garden and then write about the experience.
Another class offered in the Honors Program also uses the house's surroundings. The class, called "A Sense of Place," allows the students to gather natural materials from the woods and construct a project out of their findings.
"We take full advantage of our surroundings," Zaniello said. "The house is perfect for the Honors Program and it's not too far from the dorms."