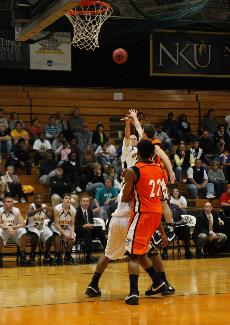 Tim Downer
The Northern Kentucky University Men's Basketball Team rebounded from the loss to Findlay last week with a 67-45 win over Ferris State Nov. 24 in Big Rapids, Mich.
The Norse bounced back from the Nov. 17 loss to Findlay University in the John L.Griffin/Lions Club Classic at Regents Hall. NKU lost that game 66-53.
Perimeter shooting proved to be key for the Norse victory, as the players shot 12-for-36 from behind the 3-point arch.
Transfer freshman guard Dennis Gagai made 6-of-8 from behind the arch and scored 17 of his career high 25 points in the first half.
"We needed someone to step up and hit from the outside today, and Dennis (Gagai) gave us a great first half with his shooting," said NKU head coach Dave Bezold, according to the NKU Athletics Web site. "We did a nice job of moving the basketball and finding the open shot. It was a great team effort, and Vincent Humphrey did a tremendous job of rebounding for us in the first half."
Humphrey, a senior forward, finished with 11 points and seven rebounds.
"Gagai has the ability to be a great scorer for us, and I'm glad he's just a freshman because we have him for three more years," Bezold said, in a press release. "We really shot the ball well in the first half, and that was important on the road."
The Norse (2-1) built a big lead to finish the first half as NKU senior guard Anthony Teague hit a 3-pointer at the end of the first half to extend the lead to 40-24.
Experience looked to be a factor in the game, as Ferris State (2-2) never made any big moves toward making a run in the second half.
The "battle of the boards" also went to the Norse as they had a 29-28 advantage off the glass.
"Our team did a great job of driving into the lane and finding the open man," Gagai said in a press release. "The shots were falling for me, but our passing is what opened it up."
NKU sophomore guard Scott Bibbins led the Norse in assists with five, while adding 11 points, which the Norse are 6-0 all-time against Ferris State.
Ferris State freshman guard Justin Keenan led the young team with 13 points. The Bulldogs struggled mightily from the free-throw line hitting just 2-for-11 from the line.
The Norse will start Great Lakes Valley Conference play as the team travels to play Quincy Nov. 29.
NKU will conclude the road trip Nov. 30 as the Norse will take on Southern Illinois University at Edwardsville.
NKU will return to Regents Hall Dec. 8, where it will play UC-Clermont at 7:45 p.m.