Disney makes a comeback with 'Enchanted'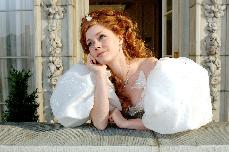 Associated Press
There comes a time in every girl's life when she has to make the ultimate in tough decisions: McDreamy or Cyclops?
Luckily for Giselle, the latest Disney princess, the answer's been written for her.
In "Enchanted," directed by Kevin Lima, reality mixes with fantasy when the Queen of Andalasia (Susan Sarandon) pushes her soon-to-be daughter-in-law – and heir to the throne – down a magic well, effectively dumping her in the middle of New York City's Time Square. Separated from her beloved Prince Edward (James Marsden), Giselle (Amy Adams) goes in search of the enchanted castle, where she runs into another prince – divorce lawyer, Robert (Patrick Dempsey).
Robert is a cynical, single dad who tries to help Giselle. As with any Disney story, chaos ensues, complete with toilet-cleaning rats and a musical number in Central Park. When Edward appears in New York in order to reclaim his love, the Queen and her henchman aren't far behind.
"Enchanted" provides a unique twist on their classic tale, most likely in an effort to reinvent the formula. It's no secret that the company's been scrambling for ideas in recent years. Fortunately, they finally succeed at reeling audiences back in. And, the star power only helps.
Dempsey plays the sensitive guy. He's perfected that role elsewhere, so there are no surprises in his performance. Marsden continues to reinvent himself; Prince Edward is a far cry from the character he portrayed in "X-Men."
But, Adams is a refreshing face among her A-list costars. Even with her impressive resume ("The Office" and "Catch Me If You Can"), she remains mostly unknown. As Giselle, Adams is able to stretch her acting chops to their limit. She has to go from na've, innocent princess to woman of the modern day world and she does it with such subtle grace that the audience is able to follow every nuance and character shift.
"Enchanted" is Disney at its best – mixing entertaining storylines with necessary life lessons. Unlike some past princess movies, this one is a film that the whole family can enjoy. If you're looking for something to pass the time between now and Christmas Day, let your local movie theater 'enchant' you for a few hours.