Archives house special entities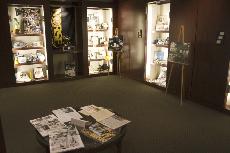 Have you ever wondered what Highland Heights looked like before Northern Kentucky University took over the landscape?
Well, now's your chance to find out.
The often-neglected first floor of Steely Library is home to the Special Collections and Archives Department. Now through December, it's playing host to an exhibit detailing the history of NKU.
The Special Collections and Archives began in 1972 to collect, document and archive both the history of the university and the surrounding communities. The collection's items range from school yearbooks to campaign flags.
There are also several interesting tidbits to be found. For instance, did you know that NKU used to have bathtub races across what the first students dubbed "Lake Inferior?" And, if you ever wanted to know what tuition was like back in the day, there's a copy of the original course list for you to peruse, listing tuition at $14 for each credit hour.
The Special Collections and Archives Department is something that most students don't even bother to glance at – just another room on a campus with a seemingly-endless supply. But housed within that room are several rare – and possibly valuable – items such as original photographs, university presidential letters and even Heyu (NKU's mascot before Victor.)
"Our purpose is to document the history of the institution: the buildings, the people, the places," University Archivist Lois Hamill said. "Many of these things are unique