'American Gangster' falls short of high expectations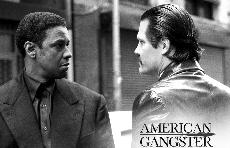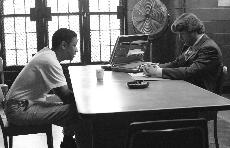 When Russell Crowe is mentioned, most people think of gladiators and world-famous mathematicians. Add Denzel Washington to the mix and those images change to bad-ass cops and ruthless killers. Unfortunately, that's not what "American Gangster" delivers.
Under the direction of Ridley Scott, the story of crime boss Frank Lucas (Washington) plays out in all its twisted, justified glory. After the death of his employer and mentor, Lucas sets out to become the leader of the drug empire in New York City, eventually succeeding in a way no one could have suspected.
Meanwhile, Richie Roberts (Crowe) is the only honest cop within a corrupt New Jersey neighborhood, working his way through law school. With the ridicule of his fellow officers following him around the department, the chief chooses him to head the Essex County district of a new FBI-driven drug task force. His unit soon sets its sights on Lucas.
Washington and Crowe are usually forces to be reckoned with on the big screen, but in a movie that's packed with too much information and unneeded sequences, they're never quite given the chance to shine. Washington's scenes are stilted and cropped so that his reactions often seem unrealistic. And Crowe switches from bumbling do-gooder to fierce protector so fast it'll make heads spin.
All in all, the movie has the potential to be quite good. Both Crowe and Washington give strong performances, despite the flow of the film. They portray their characters in such a way that you can't help but root for both sides. If dedicated Lucas were to get caught, he'd lose everything that he cared about, including his wife and the respect of his family. If Roberts doesn't catch the bad guy, he'll add one more failure to his already broken life and lose the experience of true success he craves.
Based on a true story, "American Gangster" lends the audience a view of 1960s crime from every perspective. It might not be a film to see with the family, but if you still have faith in good acting, it's a must-see. As for the moral of the story, you'll get the message – eventually.